The World in a Pocket

Tiny Collectibles Are Big for the Holidays




To view fresh holiday collectibles, click here.


"Ertl has a new cast of metal farm equipment that's very strong," — Steven Levy, Toy City

Though not always small in price, tiny collectibles are big with little kids, a TDmonthly Magazine survey of 40 specialty retailers revealed. From itty-bitty animals and knights to miniature Misses, manufacturers have scaled the world to pocket size and retailers' pockets are filling up.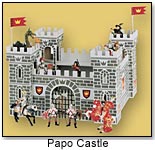 Knights, dinosaurs and other figurines (in that order) by Papo (ToyShow), Safari (ToyShow)and Schleich continue to win the fight for little boys' hearts, [view Toy Knight] while a classic Madame Alexander Wendy doll is still No. 1 for little girls.
"Madame Alexander and Ginny do equally well," noted Joyce Hoover, owner of the Doll & Gift Gallery in Rogers, Ariz. [view Dolls]
For boys who feel bellicose, "We have a number of Britains collectors," said Jack Lewis, a manager at Randall S. W. Toyes and Giftes in Pittsburgh, Pa. "The Civil War and WWII are the most popular."
Pirates of the Spanish Main collectible structure cards by WizKid sail off the shelves at Toy City in Surry, N.H., said owner Steven Levy. "They're very strong with boys," he noted.
Kids with a wandering spirit are also fond of miniature cars by Johnny Lightning, Hot Wheels and Corgi (ToyDirectory). "Ertl has a new cast of metal farm equipment that's very strong," continued Levy.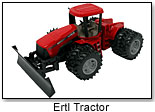 Trains by LGB and Märklin, as well as the Thomas the Tank Engine Wooden Railway by Learning Curve keep chugging along. Little kids collect the various Thomas cars, noted Grafton Stine, owner of Toys on the Square in Hummelstown, Pa.
Those who prefer slower transport might like a Breyer horse, said four different storeowners. "We sell them a lot for grandparents and parents buying for kids' collections," continued Stine. However, Earth Explorers Toys in Zionsville, Ind., had a different experience: "Breyer was not strong for us. It died off," lamented owner Terri Bracken.
Though still on fire in most stores, Upper Deck Entertainment's "Yu-Gi-Oh slowed down a lot," sighed Jonathan Berman, owner of Village Toy Shop in Castro Valley, Calif.
Uglydolls by Uglydoll are now being offered half-sized and in vinyl, as well as traditional plush. "We have the key chains, too, and they're great," enthused Elaine Hackney, owner of J.P. Boing's Toy Shop in Jamaica Plain, Mass.
International Playthings' (ToyDirectory) Calico Critters were the best collectible for small girls, agreed retailers. "We sell them big time," said Warren Brown, owner of French's Toy Shop Incorporated in Concord, N.H. "They're the cutest thing ever."
Beanie Babies by Ty, Pocket Dragons by Goebel, Town Square Miniatures and anything related to Star Wars were all on retailers' lists of irresistible collectibles. Collectible plush included Hansa and a variety of bears, both miniature and otherwise [view Specialty Bears].
The lone collectible bird mentioned specifically by retailers was the Audubon Songbird by WildRepublic. Lynn Costine, a homeschooling mother, uses authentic bird toys such as these to help her kids learn about nature [view Homeschooled Kids].
"Collecting starts rather young," commented Stine. Here, then, are some little collectibles to get into those little hands:
Papo Dragon Figure by HOTALING IMPORTS

Standing 3.5" tall, this molded plastic dragon is hand-painted and highly detailed. He likes to challenge the knights and cause chaos in the castle. The Papo Medieval Collection will stand up to the greatest of wars and any magic Merlin can summon, stretching children´s imaginations by inventing a medieval wonderland. It is available in green or red.
— Papo figures aren't just for kids at Kids at Heart in Portland, Ore. "[Parents] buy them, saying they think it'll be cool for the kids, but you know they're going to play with them, too," noted Sarah Green, manager.Specialty Retailers, have this be your link
8/19/2005 (Price: $4.99; Age: 3 and Up)



The Carnegie Collection: Tyrannosaurus Rex (10th Anniversary Ed.) by SAFARI LTD.®

Part of the world's premier line of collectible dinosaur replicas, this T-Rex has been researched and authenticated by the Carnegie Museum of Natural History, Pittsburgh, Pa. The special 10th anniversary edition of this hand-painted Tyrannosaurus Rex is scaled at 1:40 and measures 10" L x 6.5" H (25.5 x 16.5 cm). It also includes a five-language educational hang tag for additional learning.Specialty Retailers, have this be your link
11/1/2005 (Age: 3 and Up) ENTER SAFARI LTD.® TOYSHOW



Pegasus by SCHLEICH NORTH AMERICA, INC.

If the battle gets too fierce, soldiers can take flight on this winged legend. Kids who aren´t into prolonged battles may favor Schleich figures such as Pegasus, Unicorn and other animals — both zoological and mythological. Fairy and elf figurines are also available.Specialty Retailers, have this be your link
9/29/2005



Hot Wheels Dropstars Ferrari 360 Spider by MATTEL INC.

Dropstars Die-Cast Custom Vehicles are unique show cars featuring aftermarket accessories and wheels made with Phat Lip technology for a deep-dish look and menacing stance. The two-seater Ferrari 360 Spider features a revealed engine.Specialty Retailers, have this be your link
9/13/2005 (Age: 8 and Up)



The LGB 72255 Digital Starter Set by LGB OF AMERICA INC.

This set includes two LGB locomotives equipped with MTS decoders; two freight cars; a big oval of track with two switches and station siding track; a powerful 6-amp transformer; an advanced "Type 2" MTS Central Station; a handheld Loco Remote; MTS how-to CD-ROM plus instructions, cables and more. LGB trains are G-scale, which is four times larger than HO-scale trains. The trains are appropriate for outdoor and indoor use. They are made of a high-impact styrene that is UV-resistant and water-resistant when the controllers are covered. Specialty Retailers, have this be your link
6/28/2005 (Price: $799.99)



Yu-Gi-Oh! Trading Card Game Collectible Tins by UPPER DECK ENTERTAINMENT

Duelists can now stack their decks with a collection of booster packs designed to increase complexity and power during Dueling matches. Each unique tin offers an assortment of the game´s top-selling booster packs, which include Dark Beginning 1, Dark Revelation 1, Soul of the Duelist, The Lost Millennium, and Flaming Eternity.Specialty Retailers, have this be your link
11/1/2005 (Price: $19.99; Age: 8 and Up)



Little Uglys by PRETTY UGLY LLC

They´re half the size and half the price, but twice as cute. Little Uglys give regular UglyDolls the opportunity to parent their clones. Pictured is Ox, but Tray, Target, Cinko, Minimum Wage and the rest of the gang are also available in mini sizes.Specialty Retailers, have this be your link
10/26/2005 (Price: $10.00)



Bubblegum Blues Pocket Dragons by GOEBEL

The Pocket Dragons have attracted collectors from around the globe, but they´re about to retire. At least their creators are. Real and Muff Musgrave are hanging up their wire tools and paintbrushes at the end of 2006 and settling down to a quieter life. In the meantime, they´re planning a big blowout bye-bye year, offering lots of special little green resin dragons for those who can´t live without 1 or 1,000 sitting on their cupboard shelves. Bubblegum Blues, new for 2005, is just 2.75" high. Specialty Retailers, have this be your link
10/12/2005 (Price: $30.00)



Gingerbread Ginny by VOGUE DOLL COMPANY

This delightful Vintage Ginny doll is ready for the Holidays. Vintage Ginny is the original Ginny sculpt, as first introduced in the 1950s, and is recognized by collectors and doll lovers the world over. Each Gingerbread Ginny stands 7-1/2" tall, is made from hard plastic, is fully articulated and comes with a miniature gingerbread cookie cutter. This special Ginny doll was introduced at the Expo in Washington, D.C., in 2005. Gingerbread Boy, standing next to her in the photo, is sold separately and retails for $65.00.Specialty Retailers, have this be your link
11/22/2005 (Price: $110; Age: 3 and Up)



W. Britain American Civil War Desperate Valor Set #1 by FIRST GEAR

This set depicts the Battle of Gaines Mill, Va., June 27, 1862. Based on the painting by Dale Gallon, the set features Brigadier General John Bell Hood leading the Fourth Texas regiment through the Union line at the battle of Gaines Mill. This limited edition includes six figures with scenic base. This set will be available for 2006, starting on December 2, 2005. W. Britain is the oldest toy soldier company in continuous production and has been collected by luminaries such as Ronald Reagan, Winston Churchill and Douglas Fairbanks Jr.Specialty Retailers, have this be your link
11/18/2005 (Price: $160.00)



Chitty Chitty Bang Bang by CORGI USA

This little miniature flew straight out of the popular 1968 children's flick, based on Ian Fleming's 1964 series of books. Measuring just 5" x 3.75", Chitty hides her special red wings under her chassis until she's ready to take off. She's been brought back by popular demand, according to Corgi.Specialty Retailers, have this be your link
11/18/2005 (Price: $19.99)



Johnny Lightning '70 Plymouth Superbird by RC2 BRANDS

Coca-Cola and Johnny Lightning teamed up to create a collection of 1:24 and 1:18 cars, including this Superbird in the 1:24 scale. This muscle car glows in Vitamin C Orange. It has a 100 percent die-cast body and chassis, with opening hoods and doors.Specialty Retailers, have this be your link
11/18/2005 (Price: $14.99; Age: 8 and Up)



Ertl/Britains Case IH Forage Harvester by RC2 BRANDS

Released in July, this harvester looks ready to pull in bountiful crops. Impeccably detailed on the 1:32 scale, this toy will appeal to collectors of all ages. Its suggested retail price is between $36.99 and $39.99.Specialty Retailers, have this be your link
11/18/2005 (Age: 8 and Up)



Diesel Locomotive by MÄRKLIN

The prototype for this train was the Atchison Topeka & Santa Fe Railway class 52 express locomotive (American Locomotive Company type PA-1. Diesel-electric propulsion. Road number 61L). This locomotive comes with a digital decoder, controlled high-efficiency propulsion and auxiliary functions. Two axles power four traction tires. Headlight and lighted number boards will work in conventional operation and can be controlled digitally. Mars light, diesel motor sound effects, horn sounds as well as the acceleration and braking delay can be controlled digitally with the 6021 Control Unit. "Men are collecting trains in all scales ... They're connecting to their past and remembering a favorite car or fighting in a war," commented Shirley Moore, owner of the 53-year-old Talbot's Toy Land in San Mateo, Calif. She named Marklin as one of her collectors' favorite brands. "You have two brands in the world of trains with high collectibility: Lionel in the United States and Marklin in global markets," Fred Gates, president of Marklin told TDmonthly. "They maintain their value." Each year, Marklin produces limited-run items to commemorate a particular historical anniversary.Specialty Retailers, have this be your link
11/18/2005 (Price: $479.00; Age: 8 and Up)



Thomas Wooden Railway Engines Bill & Ben by RC2 BRANDS

Kids can add to their Thomas Wooden Railway set with these identical twin engines. The most mischievous characters of the whole railway family, Bill and Ben drive the senior engines to distraction.Specialty Retailers, have this be your link
11/18/2005 (Price: $10.99; Age: 2 and Up)



Kennebec Count by REEVES INTL. INC.

This new mold by Kathleen Moody immortalizes Kennebec Count, the first Morgan to leave his mark in the sport of combined driving. A classically built chestnut stallion with a flaxen mane and tail, Kennebec Count and his son, Kennebec Russel, were the first Morgans to win the U.S. National Pairs Championship in 1985. That same year, as members of the United States Equestrian Team, they represented their country at the World Combined Driving Competition in England, placing first in Dressage and eighth overall out of 45 pairs. Today, thanks in part to Kennebec Count, Morgans are the dominant breed in competitive driving.Specialty Retailers, have this be your link
11/22/2005 (Price: $36; Age: 8 and Up)



Pigglywink Pig Twins by INTERNATIONAL PLAYTHINGS LLC

Poppy and twin brother Penn both love to roll in the mud in the pigpen. Kids might like to know that these cute piglets were kid- designed. "Contests are held throughout the year for Calico Critter fans [on our Web site] which always receives a wonderful turn-out," Susan Tice, product manager and public relations director, told TDmonthly Magazine. In 2004, children were encouraged to design their own critter family. "The winner created a pig family, and 2005 saw the arrival of the Pigglywink Pig Family and Twins to Cloverleaf Corners as a result," she said.
— Calico Critters are still the favs among girls 9 to 12, said Pat Selby, owner of Calico Cats, LLC in West Bainbridge, Wash.
— Selby added that the Critters was also the top pick for younger girls.
— International Playthings helps sponsor Calico Critter-themed parties in specialty stores across North America.Specialty Retailers, have this be your link
11/18/2005 (Price: $7.99; Age: 3 and Up)



Poseable Wombat by HANSA

Hansa toys are world-renowned for their lifelike reproductions of the animal kingdom. This furry wombat is not only cute, but can be posed, too. He's 28-cm long.Specialty Retailers, have this be your link
11/18/2005




Writer's Bio:
ALISON MAREK is an award-winning writer, director and cartoonist whose work has been published by Fairchild Publications and DC Comics (Piranha Press), broadcast on Showtime and other cable networks, and viewed worldwide in film festivals. See her short films and print work on www.alisonmarek.com. Watch her nefarious villains in the web series www.MuggsMovers.com. Get inspired by her cartoons "Daily ARFFirmations to Unleash Your Inner Fido" at www.ARFFirmations.com. Phew! And then ...
Read more articles by this author