Santa's Babies

Dolls That Go Home for the Holidays




To see fresh dolls for the holidays, click here.


"I think the breathing babies are going to be pretty hot." — Shirley Grisham, Yesterday's and Today's Dolls

Dolls aren't on most Top-10 Holiday Toys lists, though a few, such as Playmates Toys Inc.'s Amazing Amanda interactive toy, are breaking through. But in specialty stores, tradition sells for the holidays, retailers agreed … and what could be more traditional than dolls? TDmonthly Magazine surveyed 30 retailers, who predicted that The Lee Middleton Original Doll Company and Adora Inc. baby dolls would make their holiday spirits bright.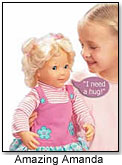 Fourteen retailers expected that babies from Lee Middleton would be their holiday winner.
"I think the breathing babies are going to be pretty hot," said Shirley Grisham of Yesterday's and Today's Dolls in Corinth, Miss.
"The Newborn Nursery dolls will be our best selling," said Debbie Hough of Hartville Collectibles in Hartville, Ohio.

"There are a lot of exciting things going on," stated Mark Putinski, vice president of marketing for Lee Middleton. "We have two Christmas dolls dressed like elves. We also introduced another new series of dolls: Silk and Splendor. Every doll has an outfit made of silk."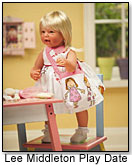 Other baby doll manufacturers were also feeling optimistic.


"We've run out of product," said Beau James, North American director of Corolle Dolls (ToyShow). "I think it's the brand recognition and the quality of the doll."

"Corolle dolls will do well. They're a basic," agreed Steve Reis, owner of Fantastic Kids in Halesite, N.Y. Nine other retailers stated that Corolle would be their best-selling baby doll brand.

The dolls that James predicted would do best for Corolle were Lila, launched in 2004, and an interactive boy doll named Jules. "It laughs, cries, giggles and burps," said James. He also predicted good sales for the Special Feature Tidoo Shower Set, new for 2005.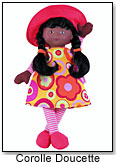 Retailers are banking on Groovy Girls to come through again this holiday season. Eight anticipated they'd be stellar.
"They're still very, very popular," said Jonathan Berman, owner of the Village Toy Shop in Castro Valley, Calif.
"The fantasy-type Groovy Girls are doing really well," said Sonya Kalajian, owner of the Toy Shop in Westford, Conn.
Advance sales on Groovy Girls for Christmas have been "very good," according to Nancy Severson of Manhattan Toy Company (ToyShow). The limited edition Chrissy 2005 Christmas doll has generated good advance sales, she said.
"I think our Adoras will still be the best sellers for Christmas," predicted Roland Ficke of Porcellana in Hamilton, Ind. He carries the Name Your Own Baby line and plans to get the newest Cradle Babies, but may have to wait:
"[Cradle Babies] did so well, we sold them out before we anticipated and won't have any until next year," commented Thomas Ames, vice president of sales and marketing for Adora Inc. They're adding four more dolls and clothing to the line.
Five retailers said that Dolls by Berenguer babies will be great holiday sellers. Gigi Williams, co-owner of Gigi's Dolls and Sherri's Bears in Chicago anticipated heavenly sales for the Angel Soft line.
"Their hair feels like a newborn infant's," she commented.
Four retailers were looking forward to increased Madame Alexander baby sales and seven anticipated that the 8" collectible dolls would spike.
"Madame Alexander is always the best collectible for girls and adults," said Daniel Janoska, manager of Talbot's Toy Land in San Mateo, Calif. "It's a tradition for a lot of people to give them at Christmas," added Berman.
The following are the dolls that retailers and manufacturers think will do best this holiday season, along with a few others named as good sellers by retailers surveyed:
Jules by COROLLE DOLLS

When his hand is pressed, he coos and babbles. When his tummy is tickled, he laughs. When he is given a bottle, he drinks it. When he is placed on his stomach, he cries. Jules is 17" tall and dressed in blue velour pajamas with a matching knit cap. The doll comes with its own feeding bottle, bib, pacifier and soft teddy bear. Jules is an Oppenheim Toy Portfolio Gold Award Winner.Specialty Retailers, have this be your link
11/15/2005 (Price: $60.00; Age: 3 and Up) ENTER COROLLE DOLLS TOYSHOW



Special Feature Tidoo Shower Set by COROLLE DOLLS

Specially designed for bathtime fun, 12" Tidoo is poseable and so light that she floats. This 2005 Tidoo adds an extra dimension of fun to bathtime: When you put the doll´s feet in the water, she laughs, and when you take her out of the water, she cries. Blue-eyed Tidoo comes with her own inflatable duck-shaped float with a real working shower attachment. She was a winner of the Creative Child Magazine Toy of the Year Award.Specialty Retailers, have this be your link
11/15/2005 (Price: $49.99; Age: 1 and Up) ENTER COROLLE DOLLS TOYSHOW



Hairstyling and Make-Up Head by COROLLE DOLLS

Little girls 3 years and up will enjoy brushing and styling the long hair of this sturdy, well-balanced vinyl doll's head. The Hairstyling & Make-Up Head comes with a hairbrush, accessories such as hair clips and scrunchies, and a pretend-play make-up disc.Specialty Retailers, have this be your link
9/8/2005 (Price: $34.99) ENTER COROLLE DOLLS TOYSHOW



Berenguer Babies - Lots to Love Drink and Wet Set by DOLLS BY BERENGUER

This pudgy all-vinyl, open-eye doll measures 14". This set includes all the accessories needed to potty train this washable baby doll: a potty, real working bottle, pacifier and baby bib. Baby's outfit includes a matching diaper, which is reusable and washable.Specialty Retailers, have this be your link
11/15/2005 (Age: 3 to 7)



Little Magical Moon by DOLLS BY BERENGUER

Little Magical Moon measures only 9.5" long. He has angel soft skin and hair. He's dressed in a fleecy blue onesie with matching booties, blanket, hat and a special stuffed moon toy. His fixed eyes are closed. "When people come in, it's like when you have a real baby — you automatically touch their hair because it's very, very soft. That's how it is with this baby. The hair's rooted and it looks real," said Gigi Williams, co-owner of Gigi's Dolls and Sherri's Bears in Chicago.Specialty Retailers, have this be your link
11/15/2005 (Price: $49.99)



New Baby Annabell With Tearing Function by ZAPF CREATION (U.S.) INC.

Zapf's newest 18" baby babbles, gurgles, giggles, sucks a bottle and "actually cries real tears," Virginia Uelze, marketing manager for Zapf Creation (U.S.), told TDmonthly. "It´s the first time we´ve mixed water with electronics."
— As of 05/13/2011 this product had 4.8 out of 5 stars from 5 reviews on Amazon.com.
— This baby was soft launched at the end of July 2005.
— Baby Annabell received the National Parenting Publication Association´s Oppenheim Toy Portfolio Gold Seal Award 2006.
— "Zapf does well," at the Hello Dollie Doll Shoppe in Albuquerque, N.M., according to owner Carmen Keicher. Sherry Grisham, owner of Yesterday & Today's Dolls in Corinth, Miss., agreed.Specialty Retailers, have this be your link
10/3/2005



Götz Kinderland Lolly by INTERNATIONAL PLAYTHINGS LLC

Designed by world-renowned doll artist Hildegard Günzel, these dolls are perfect playtime pals for little girls. For 2005, all Kinderland dolls will have a soft vanilla scent. Lolly is 13" long, has a soft body, fixed eyes and rooted hair. She comes with her own backpack baby carrier and wears a pink sleeper with matching jacket.Specialty Retailers, have this be your link
11/15/2005 (Price: $84.95; Age: 3 and Up)



Karina Grace in Ballet Outfit by ONLY HEARTS CLUB GROUP LLC

Only Hearts Club is a content-based brand of real dolls for real girls that is drawing raves for combining beautiful, real-looking dolls, with content that delivers a much-needed positive message to girls. Only Hearts Club dolls look and dress like real girls, and they deal with the same experiences and issues as well. Little 8" Karina Grace is ready to perform in her pink ballet outfit. She comes with a miniature book, "Dancing Dilemma."Specialty Retailers, have this be your link
11/15/2005



Ashton-Drake Baby Emily by ASHTON-DRAKE COLLECTIBLES

Linda Webb sculpted this true-to-life baby doll with RealTouch vinyl skin. Part of the So Truly Real Celebration of Life collection, baby Emily has tiny folds and creases in her skin, just like a real baby. Her baby-fine hair is hand-applied. She has eyelashes and even finger- and toenails. She´s dressed in a pink knit jumper, delicately embroidered and decorated with tiny "pearls" and ribbons, matching panties and socks, and a tiny pink bow in her hair. She even has her own removable pink pacifier.Specialty Retailers, have this be your link
11/15/2005 (Price: $149.99)



Amazing Amanda by PLAYMATES TOYS INC.

The doll is equipped for almost an hour of speech that includes various questions, programmed responses, requests, songs and games. As Amanda speaks, her soft-plastic lips move and her face, using Disney-like animatronics, helps to suggest expressions. In a game called "funny face" Amanda asks if kids would like to see a happy face or a sad one. If kids request "happy face," the doll´s eyes brighten and she looks as if she is smiling. If Amanda is asked to make a sad face, her lower lip protrudes as her lids lower. She can even cry when asked.Specialty Retailers, have this be your link
8/30/2005 (Price: $99)




Writer's Bio:
ALISON MAREK is an award-winning writer, director and cartoonist whose work has been published by Fairchild Publications and DC Comics (Piranha Press), broadcast on Showtime and other cable networks, and viewed worldwide in film festivals. See her short films and print work on www.alisonmarek.com. Watch her nefarious villains in the web series www.MuggsMovers.com. Get inspired by her cartoons "Daily ARFFirmations to Unleash Your Inner Fido" at www.ARFFirmations.com. Phew! And then ...
Read more articles by this author