Homeschooled Kids Teach Toys How to Play




"Six different pieces of colored silk are more entertaining than all of Polly Pocket's Adventureland."— Lynn Costine

The 700,000 families in the United States who homeschool spend approximately $400 per year on educational supplies for each of the 2,000,000 children involved, according to Ian Slatter, director of marketing relations for the HomeSchooling Legal Defense Association. To tap into this growing market, TDmonthly Magazine interviewed five homeschooling mothers from Western North Carolina who are raising a total of 15 children among them. They said that their kids prefer goal-oriented or open-ended play, reject toys with fixed play patterns, and tend to use toys the "wrong" way to optimize their play experiences.

Though the mothers rarely integrate educational toys into the classroom, several expressed interest in science kits. Lynn Costine, mother of a 6-year-old boy and 8, 10 and 12-year-old girls, often uses products by National Geographic to supplement workbooks and textbooks.

"They make a planetarium that projects the constellations on the ceiling in a darkened room," she said. "We did that when they were studying constellations and astronomy. The kids also built replicas of the solar system."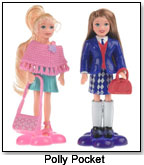 Both Shawna Hughes, mother of a 10-year-old girl, and Susan Ledford, mother of a newborn, a 10-year-old daughter and a 6-year-old son, said that they'd bought educational toys when their children were younger but had phased these out in favor of textbooks. Allyson Seagle uses flash cards to aid her 10-year-old girl in learning Latin. The mothers obtain most of their educational supplies from specialty stores for homeschoolers, bookstores and from the local school system.
The mothers all reported their kids preferred playing with toys that were either goal-oriented, such as construction and craft kits, or open-ended enough to allow for improvisational play. Hughes' daughter uses animal, rather than human, figures in her dollhouses. Julia Petoia's three 4-year-old sons "transform a toy Ferris wheel into a steering wheel so they can go on trips." Costine's girls pretend that Polly Pockets are full-sized people who've been shrunk and are hiding around the house.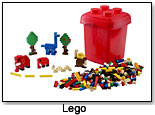 "When they have an active interaction with the toy, it holds their attention better," said Petoia, who also has three girls ages 11, 9 and 8. All of her kids play the violin and respond well to music- or art-related toys. Building another top play activity at the Petoia's — was a favorite in all of the households.
"All four of my children love LEGOs," said Costine. "They've built a giant LEGO town with friends. Each kid has a house and a business."
Hughes' daughter also "likes using LEGOs and K'NEX."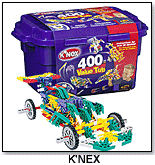 "I'm always so disappointed that LEGOs are marketed to boys," added Costine. "When they market to girls, the kits don't come apart."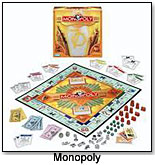 Board games were favored in two of the three households with multiple children. The Ledfords play Monopoly and chess. Petoia said her kids like "anything that involves competition … or outdoor play."
Petoia's and Hughes' kids love butterfly habitats, bug collectors and other nature-related toys. Costine bought 4" authentic singing replicas of eastern songbirds that are accompanied by a booklet describing each bird and its habits.
Dress-up was a passion among both the girls and the boys, since it allowed them to use their imaginations. "All the kids like anything to do with dress-up and make-believe," said Costine. "Six different pieces of colored silk are more entertaining than all of Polly Pocket's Adventureland."
The following are examples of the kinds of toys that may find favor with your local homeschooling families:
LEGO 50th Anniversary System of Play Limited Edition by LEGO

LEGO´s been doing what it does so well for 50 years: creating interlocking pieces that kids can use to build anything their imaginations can dream up. This LEGO-brick-shaped bin holds 500 classic pieces that includes special limited edition gold bricks. Specialty Retailers, have this be your link
9/1/2005 (Price: $9.99; Age: 4 to 9)



Big Air Ball Tower by K'NEX BRANDS

This kit constructs a huge (over 5 feet) working ball tower with custom obstacles around a transparent air-lift tube.
--This toy won "Ultimate Construction Toy of the Year" at the Ultimate Toy Awards Show in Dec. 2004.
--The Tower was nominated to be the 2005 Activity Toy of the Year by the Toy Industry Association.
--Creative Child Magazine gave this set the 2004 Preferred Choice Award.Specialty Retailers, have this be your link
1/31/2005 (Price: $59.99; Age: 8 and Up)



Butterfly Pavilion by INSECT LORE

Bring nature inside and witness the wonder of the butterfly life cycle with this amazing experience. The roomy 2-foot-tall Butterfly Pavilion habitat "pops-up" easily, looking like a Chinese lantern. Hang it from a string or set it on a tabletop for best display. The breathable see-through mesh and zippered entry allows easy access for care and feeding. The Butterfly Pavilion is a 2004 Teacher´s Choice Award winner.Specialty Retailers, have this be your link
6/21/2005 (Price: $30; Age: 5 to 12)



National Geographic ™ Earthquakes & Volcanoes Experiment Kit by THAMES & KOSMOS



With this kit, kids will learn about plate tectonics by erupting two types of volcanoes to imitate how lava hardens into rock and volcanic mountains grow. Kids can even build a working seismograph to see for themselves how scientists measure earthquake forces. The kit comes with a 32-page book that guides kids through erupting two volcano models, playing a volcano quiz game, assembling a plate tectonics puzzle, constructing a globe, examining real volcanic rocks, and building and using a seismograph.Specialty Retailers, have this be your link
2/11/2005 (Price: $31.95; Age: 10 and Up)



National Geographic ™ Dinosaurs & Fossils Experiment Kit by THAMES & KOSMOS



Fossils are the key to unlocking the mysteries of prehistoric life. With this kit, kids can learn about many species of dinosaurs and pterosaurs, some of the most prolific and impressive creatures to ever exist on Earth. The 32-page book guides kids through various activities: assembling a dinosaur skeleton, building a pterosaur mobile, casting plaster fossils, playing a dinosaur quiz game, creating a time spiral and making a geological-time bookmark.Specialty Retailers, have this be your link
2/11/2005 (Price: $31.95; Age: 8 and Up)



Toads of Fun by DAD'S INK LTD.

"Toads of Fun" is a game to help children develop cognitive skills and learn more about colors and numbers. Players move their toads around the lily pond catching flies based on matching a color and number on the spinner to the same color and number on the lily pads. This game also develops manipulative skills as the players spin the spinner and move the game pieces. Memory skills are used as rules of the game are applied to situations that come up. Analytical thinking skills are used when players control the bumblebee and consider different places to put the bee and what consequence each choice might have. Instructions are provided in English and Spanish. "Toads of Fun has a wide age appeal," Theodore Fiala of Dad's INK told TDmonthly. "There's nothing I enjoy more than playing the game with a family and seeing that it holds everyone's interest." Watch Games Expo VideoSpecialty Retailers, have this be your link
8/12/2005 (Price: $14.95; Age: 4 and Up)



Sam's Science Adventures Shark! by TREASURE BOX PRESS

Search for shark´s teeth in a fossilized soil sample from the coast of North Carolina. Kids will also find coral, shells and fossils. They can then plot the findings on the enclosed graph and identify the types of shark teeth with an identification chart. They´ll learn about seven distinct characteristics of sharks and complete a build-a-shark project. The kit includes a student notebook, materials for recommended activites and a topic-related book. Though designed for kids, teenagers love to use this kit, too. Sam´s Science Adventures Shark! is Treasure Box Press´s #1 seller.Specialty Retailers, have this be your link
7/27/2005 (Price: $14.95; Age: 8 to 12)



WonderChess Chess Kit for Kids by WONDERCHESS LLC

Kids love discovering small prizes inside the chess pieces — that´s the magic of this award-winning kit, which includes everything needed to learn and play chess. It features 32 prize-fillable chess pieces and a 3D-illustrated, 54-page book providing 10 easy lessons for kids and their caregivers. Incentive charts, WonderFiller sticker prizes and a 15" chessboard round out the fun and effectiveness. WonderFiller prizes are customizable to best meet the values of a particular family and they allow both players to experience winning. WonderChess received the 2007 Mr. Dad Seal of Approval as well as three awards in 2005: NAPPA Gold, Dr. Toy's Best Children's Vacation Products and Creative Child Magazine's Preferred Choice Award.Specialty Retailers, have this be your link
8/15/2005 (Price: $19.95; Age: 4 and Up)



Monopoly Rudolph the Red-Nosed Reindeer Collector´s Edition by HASBRO INC.

The classic board game, with a holiday twist. The board, the cards and the properties all relate to the Rudolph the Red-Nosed Reindeer TV special. Tokens include Rudolph, Santa Claus, Sam the Snowman, Hermey, Bumble and Yukon Cornelius.Specialty Retailers, have this be your link
9/16/2005 (Age: 8 and Up)



Kazink! by JAX LTD INC.

Experience a whole new level of fun! Play a card from your hand, place a chip on the board. Stack up three of your chips and it´s a crown. Play two rows of three crowns and you win. Use your strategy to stop opponents and crown your chips first.Specialty Retailers, have this be your link
3/25/2005 (Age: 7 and Up)



Musical Nutcracker Dress by ACTING OUT

Beautiful new dresses featuring the classical music of Tchaikovsky. Music is exceptional quality and sure to bring the ballet home! Itch free satin lining. Velcro back closure allows for maximum size versatility and easy dressing. One size fits most three to six year olds. Winner of the Creative Child Magazine 2005 Award. Family Fun Finalist Toy of the Year Award. Front satin loop allows dresses to be accessorized with Light-up Clippies.Specialty Retailers, have this be your link
2/11/2005 (Price: $35.00; Age: 3 to 6)



Jr. Executive Chef by AEROMAX INC.

This award winning line of career preparation costumes has created a real treat for girls and boys who love to spend time in the kitchen or even outside at the grill.
— The Get Real series won accolades from Family Fun Magazine, Oppenheim Toy Portfolio, Creative Child Magazine and iParenting Media Awards.
— This series received high ratings from MetroKids Toy Test on its appeal, educational value, functionality and durability.
— The company has designed these items to boost a child's self esteem and get him or her into active play.Specialty Retailers, have this be your link
2/14/2005 (Price: $49.95; Age: 2 to 12)



Bumblebee Hat by ELOPE INC.

Children will buzz with laughter with this adorable Bumble Bee hat. Complete with bendable antennas and a soft stinger in the back, this creative hat encourages children to use their imaginations as they buzz around exploring the backyard. It is an exceptional quality made of a soft velvet material, and even comes size-adjustable to fit any head size. This hat arises a curiosity in children for Bumble Bees and how they co-exist in the world.Specialty Retailers, have this be your link
8/26/2005 (Price: $12.99; Age: 5 to 12)



Create Your Own Board Game by PIATNIK OF AMERICA

This game includes just about everything needed to create your own game: a blank game board, 110 blank playing cards, four dice, playing chips, four colored pencils and more. Players can create whatever rules they want and draw whatever they like on the game board. It´s part arts and crafts project and part challenge of wits. Players that think they have created a stellar winner can submit it to Piatnik where the game has the chance to be published, if deemed good enough.Specialty Retailers, have this be your link
9/20/2005 (Price: $12.99)



Singer Knitting Machine by NKOK INC.

This hand-operated knitting machine allows users to create round or flat sections of knitted material. Users need merely to feed yarn through the machine and then crank a handle to produce warm, colorful scarves and swatches.Specialty Retailers, have this be your link
3/16/2005



Stained Glass Flowers by NSI INTERNATIONAL INC.

Long after real flowers have passed on, these beautiful glass blossoms will still be shining bright. The Stained Glass Flowers set includes glass paint, bamboo sticks, wire, a vase, and instructions and templates for creating your own roses, daffodils, or lillies. Includes enough material to make three flowers. Specialty Retailers, have this be your link
9/16/2005 (Price: $13.49; Age: 8 and Up)



Thomas & Friends Load and Carry Train Set by LEGO

Thomas can be loaded up at the cargo tower, then sent on his way to Tidmouth Station. The set includes a cargo tower with a slide so kids can open it to drop cargo. It also features a full track that measures 23" by 35", train signal and station. It recently won a 2006 Oppenheim Toy Award, comes with more than seven feet of track and 16 curved track pieces and is compatible with the complete LEGO and DUPLO systems.Specialty Retailers, have this be your link
9/7/2005 (Price: $29.99; Age: 2 to 5)



Pirate Ship Park by K'NEX BRANDS

This K'NEX® product comes with all the parts necessary to build a real, working pirate ship ride. The pendulum-like ride will stand more than two-feet tall and is comprised of rods and connectors and runs on a battery-powered motor. Once erected, the ship will swing back and forth before eventually flying around for a 360-degree spin.Specialty Retailers, have this be your link
9/23/2005 (Price: $49.99; Age: 9 to 12)



Paint Like a Famous Artist by WALTER FOSTER PUBLISHING INC.

The quintissential "rainy day" product, this instructional book provides kids with brushes, paint, and a palette, then teaches them how to create their own masterpieces using different styles. The book ranges from cubist and impressionist paintings all the way to comic book style, ensuring that just about everyone will find something of interest in this product.
Specialty Retailers, have this be your link
9/14/2005 (Price: $14.95; Age: 8 and Up)



Old Fashioned Knitting Board Kits by DIVA CROCHET & KNITTING

Kids can learn to knit without needles on The Old Fashioned Knitting Board. Each kit includes a knitting board, hook, pattern/instruction book, and a 3 oz or 2.5 oz skein of yarn. Kids can choose from the kits listed below. Enough yarn is provided to make a winter scarf, a head band, or a hat. Colors include purple, shaded purples, Girlie Girl (variagated pink, purple and blue), red, royal blue, lime and Holiday (variagated red, green and white). Specialty Retailers, have this be your link
10/19/2005 (Price: $28.95; Age: 7 and Up)




Writer's Bio:
ALISON MAREK is an award-winning writer, director and cartoonist whose work has been published by Fairchild Publications and DC Comics (Piranha Press), broadcast on Showtime and other cable networks, and viewed worldwide in film festivals. See her short films and print work on www.alisonmarek.com. Watch her nefarious villains in the web series www.MuggsMovers.com. Get inspired by her cartoons "Daily ARFFirmations to Unleash Your Inner Fido" at www.ARFFirmations.com. Phew! And then ...
Read more articles by this author