Toy Knight Jousting Match
Who Will Control the Market?
"There's been an extraordinary response and sales have been very good." — Ramona Pariente, Safari LTD.
Medieval-themed figures and accessories have become a hit in toy stores across the country. Three major players are "jousting" for the top spot.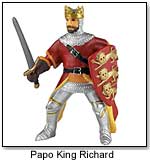 Papo, a French company, was the first to export their knights and accessories to the United States starting in 2001. Hotaling Imports (ToyShow) is their lead distributor, carrying a vast array of Papo's PVC line.
"Papo figures have developed such a large following because of how well crafted and playable they are," Hotaling Imports' president, Larry Hotaling, told TDmonthly Magazine.
Hotaling confided that it isn't necessarily the medieval theme, but the product itself that attracts children's attention. "This type of figure captures a child's attention and fuels imagination. A child could go into a toy store with a little pocket change and buy figurines and castles, and after time, they have a collection of figures," Hotaling said.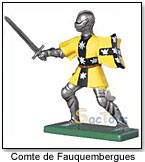 In 2003, a second combatant entered the arena: German-based Schleich. SacToys.com is one of the companies that sells Schleich figurines in the United States. Owner Don Snyder said that the line is very popular beyond the fact that they're action figures. "The toys have a historical element that I think parents like," Snyder told TDmonthly.
Schleich's Toys are crafted with the assistance of ideas from parents, teachers and children. Each figurine is hand-painted. Schleich's "World of Knights" line includes a vast range of knights and related accessories, such as catapults, a jousting set, towers and more.
But while Papo and Schleich were battling for shelf space, a third company has taken advantage of the trend. Safari Ltd. (ToyShow) launched its line in August of 2005 and has toys on the shelves of 4,500 retailers.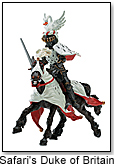 Ramona Pariente, president of Safari Ltd., a wholesaler of creative and educational toys, told TDmonthly, "The action-packed, colorfully attractive figures are great for the imagination. There's been an extraordinary response and sales have been very good." She added that not only are young kids collecting the toys but older kids and adults are as well.
So what makes a retailer choose one manufacturer over another?
Sandy Bicking, office manager of Hotaling Imports and mother of an avid Papo fan, said Papo's figurines are "more detailed and larger" than other brands out there, which is why her daughter loves them.
At SacToys, although Snyder is aware of other brands that make knight figures, he chooses to stock only those from Papo and Schleich.
"There's another brand coming out with these figurines, besides Papo and Schleich, but they're not detailed enough," said Snyder. "Schleich sells the best here, because of its packaging and maybe because we advertise them online — but even so, I like their line the best so far."
Packaging, detail and size seem to be what sell the best, but Pariente believes that Safari's figurines offer more than that.
"Our extensive collection of figurines and the fact that we are educational makes us different from the rest of the companies," Pariente said. "Our toys usually come in several languages."
Clearly, retailers have a tough decision to make when choosing which line to stock. If they can only choose one, then the most "valiant" solution may be to select a brand that possesses the best combination of great detail, superb packaging and educational benefits. Which brand that is, though, will undoubtedly vary from one retailer to the next.
The following are just a few examples of the knights from each company's extensive lines:
Papo Figurines by HOTALING IMPORTS

These highly detailed figurines and accessories are hand-painted and historically accurate. Almost all Papo Figurines can stand on their own or ride any of the horses. "The concept of creative imaginative play continues to be something that retailers and parents are very pleased with," Larry Hotaling, president of Hotaling Imports, Papo´s U.S. distributor, told TDmonthly Magazine. "It´s something that´s [otherwise] lacking with today´s children ... Papo´s been very well received."
— Papo knights were very-good-to-great sellers in 90 percent of stores surveyed.
— "Papo knights are one of the best things we have right now," said Richard Emery, owner of Toy Star in Easton, Pa., back in June 2005. As of the end of October 2005, retailers across the nation agreed that Papo knights were still one of their best items for boys.
— The popularity of Papo is growing strong," said Hotaling. "Children are very interested in our different categories, such as Medieval Knights Fantasy and Pirates. The brand name is becoming very well known.Specialty Retailers, have this be your link
8/15/2005 (Price: $3.98; Age: 3 to 12)



Duke of Bourbon Horse by SAFARI LTD.®

This figurine from the Knights & Dragon's series couples with the Bourbon Knight. The collectible is 4.75" tall and includes accurate, hand-painted details to match the medieval warrior. Like the knight (sold separately), it's constructed of durable polyvinyl.Specialty Retailers, have this be your link
10/19/2005 (Age: 4 and Up) ENTER SAFARI LTD.® TOYSHOW



Prince on Reared Up Horse by SCHLEICH NORTH AMERICA, INC.

A knight in full armor sits on a horse wearing full tournament jousting regalia. Made on a scale of 1:20, this knight is approximately 5.2". The realistic depiction reveals folds in the cloth cape and gives off a metallic sheen, though the figurine is made entirely of plastic.Specialty Retailers, have this be your link
10/26/2005