Building Bigger


Nothing equips kids to face the technological challenges of tomorrow like hands-on manipulative, constructive play.


WEDGiTS Junior Activity Tote by IMAGABILITY

Whether traveling to Grandma's house or spending the night at a friend's place, the 20-count WEDGiTS Junior Tote provides building ideas, word games and letter writing activities in one carry-along bundle. Kids love to show their friends and relatives the marvelous structures they can create, and children can learn to master their first letters and numbers with the dry-erase WEDGiTS Wipeoff Book. This included book and design card deck help kids learn and practice writing words, letters, numbers, mazes and matching activities for hours and hours of "learning-value" fun. Launch date: February 2007.
— Boing! JP's Toy Shop in Jamaica Plain, Mass., has been selling Wedgits for years and keeps a demo set out in the store. "This is a fantastic building game and can be demonstrated so well," Owner Elaine Hackney told TDmonthly in summer 2007. "Every time I go to a show I have them show me more. It looks so simple, yet the possibilities are fantastic."Specialty Retailers, have this be your link
3/14/2007 (Price: $34.99; Age: 3 and Up)




Defender Duel Start Set by ROKENBOK

The Defender Duel has a competitive play pattern: The radio-controlled Defender vehicles enter the arena, facing the spectators in the stands — all constructed of Rokenbok's unique girder, ramp and decking units. Then it's no-holds-barred excitement as the two players try to capture all three flags from their opponent's vehicle or push the vehicle completely out of the arena to win the game. Like the other Rokenbok Start Sets, Defender Duel includes the four-player, eight-vehicle command deck and eight receiver keys, which allow nearly limitless expansion of the system. "Retailers responded enthusiastically because of the proven themes of these new Start Sets; Rokenbok's reputation for imaginative play; the flexible expandability of the Rokenbok construction system; our full-featured, robotic vehicles, and the rock-solid quality of every Rokenbok product, backed by our lifetime warranty," Christine Norris, marketing for Rokenbok Toys, told TDmonthly. "Men really like the Rokenbok sets and are always adding to them," said Ed Dodd, manager of Classic Toys in Anchorage, Alaska.Specialty Retailers, have this be your link
3/20/2006 (Price: $159.99)




Magformers by MAGFORMERS LLC

This magnetic construction set features 108 powerful magnets permanently encapsulated inside 18 jewel-toned square Magformers and 12 triangle Magformers. The magnets rotate to their attraction position upon contact, so Magformers always connect regardless of their polarity. Watch in amazement as Magformers "form" into three-dimensional structures. Magformers received an Oppenheim Gold Award as well as the 2007 Oppenheim Toy Portfolio Platinum Award. The product's "magnetic connector concept allows the end user to create quick, magical 3-D models," President Larry Hunt of Rainbow Products told TDmonthly. Launch date: April 2006.
— Lynda Blankenship, owner of Smart Toys & Books in Knoxville, Tenn. told TDmonthly in late Spring 2011 that Magformers were a best-selling construction toy.
— Magformers are a best seller at Piccolo Mondo Toys in Portland, Ore., Owner Michelle Smith told TDmonthly in Dec. 2008. "We have them on a play table," she said. Magformers have been best sellers for at least a year at Pufferbellies in Staunton, Va., Co-owner Susan Blanton said in September 2009.
— Mike DiAndrea, manager of Hardware Centre in Paoli, Pa., told TDmonthly during an April 2009 survey that he sells between 100 and 150 sets of Magformers per month. Magformers are also a best seller at Golden Apple Learning Store in Pleasanton, Calif., Owner John MacDougall told TDmonthly in August 2009.
— Want this? As of 05/10/2011, this product was available for purchase at Smart Toys & BooksSpecialty Retailers, have this be your link
4/14/2006 (Price: $34.98; Age: 5 to 11) ENTER MAGFORMERS LLC TOYSHOW




Spykee Spy Robot Erector Set by MECCANO

This spy robot, equipped with a video camera, microphone, loudspeaker and two motors, can be controlled from a computer through WiFi connection, and from anywhere via the Internet. Able to move, take photos and record video and sound, the robot acts as a telephone, digital music player and video surveillance device, whereby it sends email alerts upon detecting movement. Spykee returns to his charging station when his battery is running low. Spykee "is not only an erector set, in which you can build three different models, but also a high-tech electronic toy with practical use — fun for both kids and adults!" Marsha Cannonie of Nikko America told TDmonthly. Launch date: September 2007.Specialty Retailers, have this be your link
2/23/2007 (Price: $299.00; Age: 8 and Up)






THIS BANNER IS AN AD::
Recent Products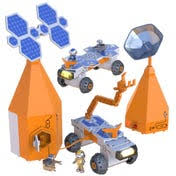 Educational Insights Circuit Explorer Rover Beginning Circuits
By EDUCATIONAL INSIGHTS INC.
» More Information