Grown-up Kid Stuff
Kidult Products Take Toys to New Arenas
Mom uses her Blackberry, Dad has a portable DVD player and everyone's walking around and talking on the phone. Naturally, kids want their very own electronic gizmos that really work. Maybe it's time to say goodbye to the toy tea set and the toy workbench — and say hello to the juvenilization of consumer products.
What drives this trend? It's really pretty simple. Consider that much of children's play is imitative, says Sean McGowan, a toy industry analyst with Harris Nesbitt. Children play what they see.
So, to respond to modern play patterns, manufacturers have created a bright array of glittery, smooth, stepped-down "toys" for today's kids, a trend probably enhanced by the ever smaller nature of electronic components and a perpetually competitive market for the next biggest — or next smallest — thing.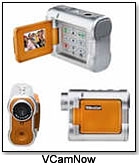 "The kids are smart enough to know what's good," said McGowan.
Hasbro has entered the electronics market with its "Now" line which includes the ChatNow phone, the VideoNow XP Personal video player, the VCAMNOW Personal Video Recorder and the PLAYITNOW Personal Digital Music Recorder plus all the accessories. Some accessories enhance functionality, like the VIDEONOW Media Wizard software. The Fisher-Price subsidiary even has junior "Now" products.
Toys "R" Us carries Craig electronics for kids — pink or blue portable CD players, boom boxes, MP3 players and the Snap Mini Digital Camera. The latter is the size of a large pendant and can be kept on a chain around the neck.
At least three companies offer cell ph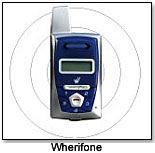 ones for younger kids: Firefly Mobile, Wherify's Wherifone and Enfora's TicTalk. The Firefly Mobile and the TicTalk share the same feature of heavy parental control. There's no keypad for text messaging and parents can program the phones to approved phone numbers and to reject unknowns. The Wherifone is unique in that it has GPS technology so parents can track their children when they're not at home. They are all very smooth, round phones that fit nicely into a kid's hand. (Click here to read last month's articles on kid cell phones and cell phone accessories.)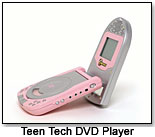 McGowan says the peril he sees ahead for toy companies is the very competitive nature of consumer electronics, which he calls "the most competitive market on the planet." Why should parents spend $89.99 on a pink Teen Tech portable DVD player at Toys "R" Us when they can get a consumer-grade product with all the bells and whistles at Best Buy for $119.99?
The electronics stores, suggests McGowan, might become the new toy stores. Prices will go down and functionality will become more affordable. It's a weird trend, adds McGowan, as toy companies try to compete with electronics companies.
Meanwhile, Mattel isn't weighing in much on this one. Spokesperson Keith Wiley says that the company would prefer not to comment on the issue at this time. Another Mattel spokesperson, Wes Robinson, referred not to company strategy but to other electronic products, such as the Juice Box Portable Media player and the Pixel Chix. Both of these are clearly tween items.

Seems like everyone is meeting the challenge by making more tween stuff. Tek Nek marketing manager, Chris Folmer, understands the importance for tweens of toys that "look and function like [the products that] their older siblings and parents" use. Price is also very important. At $29.99, the CoolP3 downloadable music player "keeps us in the toy category," said Folmer. Internet gadget bulletin board sites suggest that it is used by kids as young as 4.
Tek Nek may also be part of another wave of the future — classic toys enhanced with materials made for adult admiration rather than for sticky hands. The Rock 'N Ride Pony comes in high-end "nontraditional fabrics," said Folmer, and as an interior decoration, makes "a perfect prop."

The following products exemplify this growing trend:
Rock 'N Ride Pony by TEK NEK TOYS INTERNATIONAL

This plush riding rocking toy plays whinny and gallop sound effects. It has a soft plush body and a sturdy base.Specialty Retailers, have this be your link
1/30/2006 (Age: 1 to 3)



CoolP3 by TEK NEK TOYS INTERNATIONAL

This package includes a CoolP3 player, CoolP3 Software CD, backpack and belt clip, adjustable stereo headphones and USB cable. It includes 6 free songs and can download music from CDs or the computer to play a total of 48 songs or up to 2 hours of music. It supports MP3/WMA music files and is the first kid-friendly downloadable music player.Specialty Retailers, have this be your link
1/5/2006 (Age: 4 and Up)



VcamNow by HASBRO INC.

Now kids can shoot digital movies, snap photographs and create their own VideoNow personal video discs with a digital video camera made just for them. The portable VcamNow, with its hip, sleek look, is the perfect accessory for kids with an "on-the-go" lifestyle. It's loaded with an array of cool and easy-to-use features. Users can view their digital movies and photos on television and view, edit and send video and photos on their computer. It can even be used as a camera.
— "These are going to go like hotcakes," predicted John Sedgwick of Sedgwick's Toys in San Francisco. "They are the perfect price point, and every kid wants a camcorder."
— The manager of Never Enough Toys in Houston, Leslie Watamul, agreed: "Every kid is going to want one of these. They are the perfect high-end stocking stuffer."
— Jackie Washington of the Toys "R" Us in Westminster, Colo., said they've ordered "quite a few, expecting a real demand for them."Specialty Retailers, have this be your link
9/19/2005 (Price: $79.99; Age: 8 and Up)



VideoNow XP by HASBRO INC.

VideoNow XP is the interactive video system that allows tweens to enjoy top-rated programming and hot music videos, as well as play fun, interactive games anytime, anywhere! The VideoNow XP player combines the high-caliber programming and easy portability of the popular VideoNow Color with the addition of interactive adventures, an exciting all-new format for VideoNow. VideoNow Personal Video Discs will feature bonus trivia and games playable only with the VideoNow XP player.Specialty Retailers, have this be your link
11/8/2005 (Price: $59.99; Age: 6 and Up)



VideoNow Jr. by HASBRO INC.

VideoNow Jr. is the first full-color personal video player designed specifically for preschoolers. Now kids can bring Dora, Blue, Barney and other favorite television and movie friends on the road.
— According to a Hasbro press release, more than 1.2 million black-and-white players were sold in its first year alone, and Hasbro expects the new, color version to be equally, if not more, popular.
— The extensive library includes top children's programming from popular channels such as Nick Jr., Sesame Workshop and HIT Entertainment.
— VideoNow Jr. was a top-selling kid's electronic device on Wal-Mart.com when it was first released.Specialty Retailers, have this be your link
4/28/2005 (Price: $29.99; Age: 3 to 6)



PlayItNow by HASBRO INC.

This pocket-sized digital music recorder plugs into a standard headphone jack. It comes with a belt clip, earbuds, 6 games and 6 screen savers.Specialty Retailers, have this be your link
1/30/2006 (Price: $34.99; Age: 6 to 12)



Che-ez! Snap Mini Digital Camera by CRAIG

This ultra-compact digital camera with belt/key chain hook and chain necklace can shoot up to 200 images and store up to 104.Specialty Retailers, have this be your link
1/30/2006 (Price: $29.99; Age: 6 and Up)



Firefly by FIREFLY MOBILE

Kids can be kept a phone call away with this child-sized cell phone with 5-button keypad. Parents can program the phone to reject incoming calls not in the 20-number phone book. It includes 12 ring tones, 5 animations and 7 LCD screen backlight colors.Specialty Retailers, have this be your link
12/6/2005 (Price: $99.99; Age: 8 to 12)



TicTalk by ENFORA

This cell phone for kids is easy to use. Parents can maintain complete control of all functions and features using a secure TicTalk Web page.Specialty Retailers, have this be your link
12/6/2005 (Price: $99.00)



Juice Box Personal Media Player by MATTEL INC.

The pocket-sized Juice Box has a high-resolution full-color 3-inch LCD screen. One sample cartridge is included, with content from Cartoon Network and Vans Triple Crown. It also plays downloaded music from MP3 files and displays digital photos, with the help of an MP3 Starter Kit (sold separately). Juice Box also features a built-in speaker and a headphone jack. It's 4" x 5" x 1.5" and requires 3 "AA" alkaline batteries, not included.Specialty Retailers, have this be your link
1/30/2006 (Price: $69.99; Age: 8 to 12)



Pixel Chix by MATTEL INC.

Mattel´s Pixel Chix gives the dollhouse a 21st-century makeover, utilizing technology to give the house a virtual feel. The palm-sized dollhouse comes filled with miniature furniture, fixtures and a talking, bite-sized virtual girl who lives in a Miami loft, a Beverly Hills mansion or a country cottage. A user can arrange the furniture and fixtures as she sees fit, and control the doll´s eating, sleeping and playing.Specialty Retailers, have this be your link
2/25/2005



Wherifone GPS Locator Phone by WHERIFY WIRELESS INC.

This unique kid's phone comes with a GPS Locator that parents can use to track their child's location by visiting the company's website. This small, lightweight phone is roughly the size of a business card. It features two-way voice calling over GSM cellular networks. It includes five programmable buttons that make it easier for kids to contact parents and loved ones while allowing parents to manage calling costs.Specialty Retailers, have this be your link
1/31/2006 (Age: 8 and Up)