Tween Tech Geeks Now Chic?

Cell Phone Accessories Win Kids Over




Also hitting store shelves are antenna rings and charms that hang from the antenna.

Kids can bling their ring — for cheap. Allowances and pocket change ought to cover the cost. And small items will fit perfectly on the sales counter to fuel impulse-buying.

"Kids like the accessories a lot — covers, stuff like that," said Kellie Bean, mother of two cell-phone-using kids.

Fortunately, there's no shortage of choices.

Adhesive faux gems create an individual look and plush covers turn phones into little stuffed animals. Verizon carries cell phone adhesive-backed "gems," a variety of pouches and holders, and toy animals by Fun Friends.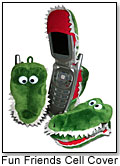 Fun Friends are little stuffed animal covers that wrap around any style of phone. They seem to be more popular with an older crowd, or at least Avril Lavigne likes them despite (or because of) their Beany Baby cuteness, according the Fun Friends Web site.
The design team at San-X continues to invent things that are simultaneously hip and cute, from stickers and phone caddies to charms and phone beds. There are always more creatures coming from San-X. New animals and families include Mamegoma, a tubby little seal who likes to go for walks on a leash. Wanroom characters are happy small household objects (planters, lamps, alarm clocks, etc.). The bed for the phone is a Wanroom character, but since it doesn't recharge the phone, it's strictly a toy.
Also hitting store shelves are antenna rings and charms that hang from the antenna. Another antenna accessory lights up when the phone rings. Some of these tend to be on the blingy side and so might be of more interest to girls than boys.
High IntenCity Corp. carries metallic stickers that are perfect for iPods, digital cameras and cell phones, according to Jacquelyn Doran of High IntenCity. They just started carrying Hello Kitty stickers and also some Disney characters
A child can declare his or her passion for all things Loony Tunes or superhero with interchangeable face plates.
Japanese Internet retailer StrapYa sells a mind-boggling array of things for cell phones and key chains, including tiny diaries and miniature wooden sticks to stimulate pressure points for reflexology. Yuuki, a StrapYa.com employee, says that they have many American customers: "Yes, we've sent cell phone straps/cell phone toys and charms to over 20,000 U.S. customers so far since 2002. And over 8,000 customers of over 50 countries.
"[Except for Japanese customers, this statistic is from a database of our English Web site.] Yes, we do wholesale. If you know exquisitely wonderful distributors/stores, please introduce us to them!"
Firefly Mobile, creator of one of the new kid-and-parent-friendly cell phones, likes to keep its accessories between $9 and $12 so children can use their own cash to update their look. A recent deal with tween retailer Limited Too has placed the phones in the stores — and in the store mannequins' hands, making the phone itself the ultimate accessory for the fashion-forward girl.
The following is more information on products that follow this trend:
Fun Friends Cell Phone Covers by FUN FRIENDS

The next craze has started with Fun Friends cute and cuddly cell phone covers. Two styles, bar and flip, fit just about every cell phone on the market. Crafted from only the finest fabrics for unbelievable quality, they fit better than ever. Usher wouldn´t take Cuddles the Dog off his cell phone at the 2004 World Music Awards. Other have tried to imitate but only Fun Friends has functional plush covers for cell phones. The others are just boring pouches!Specialty Retailers, have this be your link
12/22/2004 (Price: $9.99)



CHARM IT! Hello Kitty Charm Stickers by HIGH INTENCITY CORP.

CHARM IT! Hello Kitty Charm Stickers bridge the gap between sticker and charm because they are metallic stickers. They come three to a pouch and CHARM IT! stickers are packaged four per polka-dot pouch.Specialty Retailers, have this be your link
12/14/2005 (Age: 6 and Up)



Wanroom Bed & Screen-Cleaning Slippers Plush Set With Pocket by ITASHO

Cute rules again, but since this doesn't plug in and recharge phones while it rests, the bed can be considered pure toy. The little slippers will clean the screen of the cell phone without scratching or denting.Specialty Retailers, have this be your link
12/14/2005 (Price: $21.95; Age: 6 and Up)



Mesh Pouch by FIREFLY MOBILE

A kid can keep his or her Firefly phone covered and close with a tough, lightweight pouch that attaches to a belt loop, backpack strap, gym bag — whatever!Specialty Retailers, have this be your link
12/7/2005 (Price: $9.99; Age: 8 and Up)



Wristlet Purse by FIREFLY MOBILE

Girls can now carry their Firefly phone, and some change ... and a house key ... and maybe some gum — in one handy spot. The wristlet purse has a place for a phone and another zippered compartment for all the other stuff.Specialty Retailers, have this be your link
12/7/2005 (Price: $12.99; Age: 8 and Up)



Ziplette Cell Phone Carrier by FASHION ANGELS

Why fumble for your phone like a geek when you can whip out your cell from a stylin´ clip on? These glittery phone socks attach to purses or belt loops so your phone is just a zip away. And while you´re at it, amaze your friends by unzipping the ziplette all the way: you´ll end up with a zipper strip almost 3 feet long and they´ll think you´ve ruined it! But you just have to zip up again and the ziplette coils back into shape, ready to nestle your phone until the next ring. The MSRP $8.00 to $20.00.Specialty Retailers, have this be your link
11/2/2005 (Price: $8.00; Age: 8 and Up) ENTER FASHION ANGELS TOYSHOW