TDmonthly's Top 10 Most Wanted TV Action Figures
The research for this article was compiled by November 3, 2004.

There is no question that kids love to grab a bowl of cereal and watch their morning cartoons. The Cartoon Network, KidsWB! and Nickelodeon have been driving forces in character-based action figures. Their viewing audience is significant as 80 million viewers tune into the Cartoon Network every month. The public has already overwhelmingly embraced the anime genre making Yu-Gi-Oh! and Mega Man huge successes. Indeed, it looks like the highly anticipated Atomic Betty will be a breakout success in this category.
Here are the top 10 action figures in no particular order.
1.) Teenage Mutant Ninja Turtles: Leonardo ( $7.99, 4+) by Playmates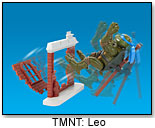 (Gift Guide)
Leonardo does a hands-free back flip and comes with a break-away wall for hours of entertainment.
-The show airs seven days a week in its third season with high ratings.
- Playmates will release 40 new other figures in 2004 with themes like "Space Hoppin."
- It was nominated as top "boy cartoon star of the year" for the "Ultimate Toy Awards."
2.) Atomic Betty "Galactic Guardian and Defender of the Cosmos" ($5.99) by Playmates (Gift Guide) Cartoon Network's new diva super-hero will have a line out in early 2005.
- It was highly promoted and premiered to "double digits" with kids in all age brackets.
-Atomic Betty has licensing agreements with Mead School Supplies and A.D. Sutton and Sons among others.
-Its been licensed to 55 countries including Canada, UK and France.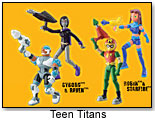 3.) 3.5" Teen Titans Action Figures (Approx $3.50, 5+) by Bandai
These crime-fighting teens each come in packs of two with various weapons.
-Ratings on the Cartoon Network, increased by 45% among kids 6-11 in August.
-The figures are compatible with new Launch Tower Playset and the Command Centers.
-There is also a 1.5" comic book version that comes with a collectable comic page.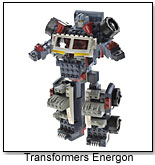 4.) Transformers Energon: Leader Optimus Prime ($39.99, 5+) by Hasbro
The leader of the good guys has been a popular choice with young fans.
-New episodes of Energon began airing in October on the Cartoon Network.
-Hasbro and Dreamworks are developing a live-action, Steven Spielberg-produced film for release in summer of 2004.
-There were 2 million copies of the comic book series by Dreamwave sold last year.
5.) Power Rangers Dino Thunder: Action Megazoids ($5.99, 4+) by Bandai
The push of a button activates light and action features based on the Saturday morning ABC cartoon.
-This 12-year-old line has consistently been the most popular for Bandai.
-It was nominated for boy cartoon star of the year for the "Ultimate Toy Awards."
-In addition, it was listed as a hot holiday toy for 2004 by ABC news.
6.) Batman TV Activated Batmobile ($51.99, 4+) by Mattel
This car uses Veil technology to interact with "The Batman" on the KidsWB!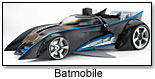 -Mattel is planning to give away thousands of toys for the show's premiere.
-They also have a Batlink and Batwave communicator using the same technology.
- It holds one figure and comes with light and sound, while additional features can be downloaded.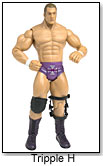 7.) WWE Ruthless Aggression Tripple H (Approx $6.99, 4-7) by Jakks Pacific
Wrestlers are a consistently popular item with kids and this trend should continue through the holiday season.
-The WWE has spent 268 weeks on the Lycos 50.
- There are 72 figures on the market and new arrivals every month.
-2 million people attended WWE events worldwide in 2002.
8.) Yu-Gi-Oh! Duel Disk Launcher ($29.99, 5+) by Mattel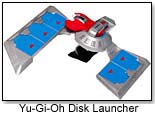 This life-sized item is a mix between an action figure and card game that allows kids to act out the show.
-This line had 100% growth in 2003 and was the top selling license according it NPD.
-The Yu-Gi-Oh! movie came out in theaters this summer.
-Top Seller in the Yu-Gi-Oh! store on Amazon.com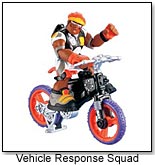 9.) Rescue Heroes Vehicle Response Squad: Kenny/Bike (8.99, 3+ ) by Fisher-Price
This fall, the heroes are mobile with a bike, kayak and helicopter.
-The #1 early adopter action figure on Amazon.com based on purchases.
-Airs every day on the Cartoon Network and the DVD released in July.
-Parents approve of these products for the pre-school set.
10.) Mega Man NT warrior 5" ($7.99, 6+) by Mattel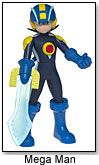 Each of the six figures from a modern time comes with their own "battle chip.
-The video game has been extremely popular and the cartoon is in its second season.
- Mattel has also produced a "personal terminal" to fight virtual computer viruses.
-Anime is a hot genre within the cartoon marketplace.