Toy Candy Trend Brings Sweet Success to Manufacturers


According to the American Wholesale Marketers Association, novelty toy candy has become the fastest-growing segment of the $23 billion U.S. candy market. What was once thought of as just a fad continues to be a strong segment with room to grow.

Using catchy names and innovative merchandising strategies, manufacturers are targeting children ages 14 and under with products that light up, ooze, foam, and bear unappetizing names such as Brain Drips and Toxic Waste. This is big business, and manufacturers such as The Foreign Candy Company, Generation Foods, Family Sweets, JAKKS-Pacific, and Sherwood Brands are hoping to find staying power with the right product and packaging.

Impact Confection introduced their Mega Warheads candy line (SRP $0.69/pack and up) in 1993, proving long ago that toy candy could survive the transition from mere craze to money-making machine. Small and inexpensive, kids don't seem to mind that it's a large dose of malic acid that gives Warheads (and other sour candies) their extreme taste. The Warhead line now includes sprays, liquids and rolled candy.

Generation Foods takes it a step further, combining the super sour with the super gross. They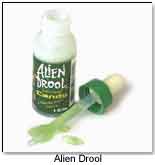 wrap it all up in cool packaging—droppers, specimen tubes, sprayers, and foam dispensers—with eye-catching graphics. Alien Drool (SRP $1.50) comes in a dropper and is described as a green, super sour, thick liquid. Tremors Subterranean Sour Sand Worm (SRP not yet available) is a candy worm in sour powder.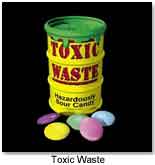 Family Sweets, maker of Toxic Waste Hazardously Sour Candy (SRP $1.00-1.29), invites kids to "Take the toxic challenge." Wrapped in a slime-covered drum, the manufacturers claim their candy has the longest lasting sour flavor thanks to a super-sour core. An interactive website lets kids challenge their friends by rating their toxic sour level.

JAKKS produces sour Tongue Tape (SRP $2.99) and accessories that include a Tongue Tape Necklace, Ring, Belt Clip, and Zipper Pull. A deluxe package includes 36 strips and an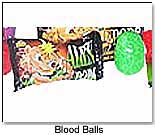 accessory (SRP $3.99).

Sherwood Brands entered into the toy candy arena with gumballs filled with mega-sour, mouth coloring powders, featuring names like Blood Balls, Alien Pods and Spooky Eyes (SRP $1.50-$1.99 for a 5.5 ounce bag). According to Katherine Owens, vice president of business development, Sherwood is also hoping to find success with their Stuffed Canes—flavored candy canes wrapped in a completely different fruity flavor (SRP not yet available).


THIS BANNER IS AN AD::