Old-Fashioned Treats: Regennas Toy Candy
Established in 1894 by Charles Fredrick Regennas, Regennas Candy, Inc. is a five-generation,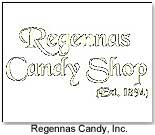 family-owned-and-operated confectionary in Lititz, Pennsylvania.
An historical landmark and tourist spot, the shop is in its 110th year of manufacturing. Regennas uses recipes passed down from preceding generations. This, along with their famous name, has given them longstanding success. They sell wholesale to retail outlets, with sales being highest during Christmas and Easter. Once known only by word of mouth and strictly a local and mail order business, Regennas has been a nationwide supplier of candy since the creation of their website a few years ago.
Jake Regennas, the current owner, explains the candy making process. "Our candy is made in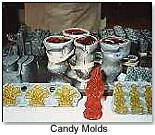 many of the same molds that my great-grandfather started with. Most of the machine-made clear candy toys tend to be flat on one side, leaving them two-dimensional, rather than the three-dimensional ones that we produce. A mixture of sugars is cooked well above its boiling point, at which time it is either colored or left the natural amber color. The candy is then transferred and poured into antique molds. In a few minutes the molds are opened and the toys are removed and trimmed before being bagged for sale."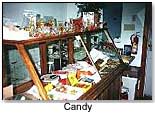 Chocolate Easter eggs, taffy peanut butter suckers, and spearmint stick candy in round and flat varieties are made in addition to the original confections. Internet orders are limited to clear toy suckers and pieces, sold 15 suckers to the pound and 20 pieces to the pound.
"I have a lot of inquiries from adults who want to surprise their mothers and fathers with candy that many of them have not seen for years or generations," Regennas remarks. His only philosophy is "a desire to produce a quality nostalgic product as was true of my forefathers."