Toys That Feel Your Pain

Brain-Wave Sensors Bring Tech to the Next Level




Our robots can "live, see and hear on their own." — Art Janis, WowWee

Imagine a toy that you control simply by concentrating. Or one that can read your feelings and respond: a doll that knows you're happy and invites you to play a game, or a robot that hears your angry voice and apologizes.

TECHNOLOGY OF EMOTIONS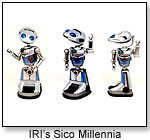 CEO Robert Doornick of International Robotics Inc. believes the latter is where tech toys are headed. His company is currently developing comparable technology for a principal car maker that enables a vehicle to know whether its driver is happy, sad, inebriated or tired — a capability that could also be applied elsewhere.

When it comes to technological advancement, "The emotional factor is perhaps the biggest element in the intelligence equation," he said. "We see the next generation of toys as having more 'sensitivity' and 'response' to their owners' feelings and personalities."

TRAINING THE BRAIN

Some of the latest developments in technology are concerned not only with feelings, however, but also with the brain power behind them.

Robotics research and development firm OLogic Inc. partnered with NeuroSky, the developer of cost-effective bio-sensor technology for consumer use, to showcase a few proof-of-concept devices at trade shows this year.

At the International Consumer Electronics Show, they debuted an interactive video game and a robot dubbed "The Brain" that could be controlled by the brain waves of users wearing sensor-embedded headsets. And at the Game Developers Conference in March, the pair attracted media attention with a Darth Vader prototype that carried a brain-operated light saber.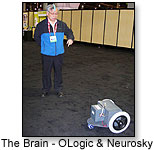 The sensor technology is fairly simple, CEO Stanley Yang of NeuroSky told

TD

monthly. The sensors detect a person's brainwave activity and translate his or her state of mind into digital signals that are then read by a computer or gaming device.

Yang was quick to point out that the technology has long been used in hospitals for EKGs and other procedures, but "our sensor does not require gel or any kind of skin preparation," he said.

MAKING IT AFFORDABLE

OLogic translated NeuroSky's technology into a "low-cost consumer electronic design," said CEO Ted Larson of OLogic. But Doornick, whose company specializes in $85,000 to $2 million Techno-Marketing robots with "human-like personality traits," said it will be years before such models can be affordably mass produced.

He acknowledged WowWee as one of the most successful companies producing personal robotic toys now.

Art Janis of WowWee told

TD

monthly his company is enabling robots to "live, see and hear on their own." With infrared radar as their line of vision and sonic hearing that allows them to assess an area and decide where to go, they don't require remote control.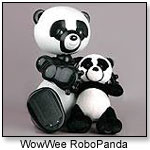 The $99 Roboquad, due out this fall, features these capabilities and can move in any direction. It comes with a remote, but also functions autonomously.

Although consumers may not be ready to fork over a few thousand dollars, WowWee has "capabilities to do anything right now. We can make a robot that will meet you at the door, respond to you, carry packages," Janis said.

TRACKING TECH

Indeed, the potential for new technologies in toys is vast. More than half of Neurosky's 30+ clients using bio-sensor technology are toy and gaming companies, Yang said. And OLogic is presently designing for two major toy manufacturers.

Furthermore, Nokia has given Bluetooth SIG its new Wibree technology, which is essentially an ultra low power Bluetooth solution, according to Kevin Keating, U.S. marketing director for Bluetooth SIG. Scheduled to hit the market in 2008, it is ideal for button-cell devices and will allow data transfer using up to 10 times less power than the current technology.

LEGO Mindstorms, Sony's AIBO robotic dog and Nintendo's Wii already utilize Bluetooth, Keating told

TD

monthly, and there are other companies in SIG's 8,000-member network that could take the new technology into the toy and gaming industries.

"The next big wave … is toys with much greater computing horsepower on board," Larson said. And soon, per Doornick's comments, interactivity may heighten as feelings-sensitive technology is applied to games, dolls and various toys.

See some robotic and technologically advanced toys below:


Roboquad by WOWWEE GROUP LTD.

This four-legged intelligent life form is equipped with multi-directional movement capabilities and advanced sensory awareness, including an infrared beam vision system that permits him to spot movement up to 13" away and sound sensor technology that allows reaction to possible intruders. Roboquad features multicolored flashing lights and funky sound effects, and his remote control has an eight-way directional pad. He can function either by remote or autonomously. Launch date: Fall 2007.Specialty Retailers, have this be your link
6/8/2007 (Price: $99.00; Age: 8 and Up)




Talking Mama Bear by TOMORROW INC.

This lovable plush toy features recording/playback technology that realistically recreates a mother's voice. The toy also features several "teach modes" to promote number, color and anatomy recognition. "Unlike other recordable/playback products, this item is age-graded safe for very young children (18-24 months)," Chief Marketing Officer Jim Huntley of Tomorrow Incorporated told TDmonthly. Christine Simmons of Tomorrow Incorporated's media department added, ""Recordable novelty toys can easily be recorded over or deleted by a child accidentally during play. Talking Mama Bear recordings are captured in the bear module in a way that makes it difficult to delete." Launch date: March 2008.Specialty Retailers, have this be your link
6/8/2007 (Price: $29.99; Age: 3 and Up)




Britepack by TOMORROW INC.

Triggered by movement or impact, the water-resistant Britepack sets off a pattern of LED lights and shuts off when not in use. An added fun feature to an ordinary school item, the Britepack serves as a safety feature in urban areas so kids can be more readily seen in traffic or other low-light situations. Designs are available in various styles and sizes and include 16" wheeled and non-wheeled (all Britepacks are equipped with shoulder-straps) for toddlers, kids and adults. "Parents who worry about their kids carrying a heavy backpack often lean towards rolling bookbags…unfortunately, kids don't think they're very cool," Christine Simmons of Tomorrow Inc's media department told TDmonthly. "But with the Britepack, parents get what they want (a safe bookbag that can also be seen at night) and kids get what they want (a trendy and fun school accessory)!" Launch date: December 2007.Specialty Retailers, have this be your link
6/8/2007 (Price: $39.99; Age: 5 and Up)




Maestro by AMAZING INNOVATIONS / AbsolutelyNew

In this innovative musical sequence game, an internal computer chooses a "preview sequence" of three notes at random, and then plays them embedded with a melodic strain. Players push a button when they recognize the original triad within the sequence. The higher you score, the faster the music plays, increasing the challenge. This game stimulates ear training, and multiple units can be wired together so that two or more can play at once. Blinking lights add interest to the music being played.Specialty Retailers, have this be your link
6/8/2007 (Price: $14.99; Age: 6 and Up)




RS Media by WOWWEE GROUP LTD.

With a full-color LCD screen, hand-mounted tweeters and a back-mounted woofer, a USB connector and MPE and MP4 playback, RS Media can display and store data easily from a PC. Users can utilize the personality editor to edit his movements, sound and video files, and even programming. Launch date: Fall 2007.Specialty Retailers, have this be your link
6/8/2007 (Price: $299.00; Age: 8 and Up)




Cinema of Fear Plush - Series 2 - Jason Voorhees by MEZCO TOYZ

MEZCO Toyz joined forces with Warner Bros. Studios to breathe life into some otherwise very dead characters. MEZCO released the second Cinema of Fear series of Friday the 13th and A Nightmare on Elm Street Deluxe Plush characters combining highly detailed roto-cast heads, hands and feet with a plush body and removable fabric outfit. Jason Voorhees from "Friday the 13th Part 2" features the "sack mask" look he experimented with before settling on his hockey mask and includes pick axe accessory. Each stands approximately 13" tall.Specialty Retailers, have this be your link
4/22/2009 (Price: $30.00; Age: 18 and Up)




Spykee Spy Robot Erector Set by MECCANO

This spy robot, equipped with a video camera, microphone, loudspeaker and two motors, can be controlled from a computer through WiFi connection, and from anywhere via the Internet. Able to move, take photos and record video and sound, the robot acts as a telephone, digital music player and video surveillance device, whereby it sends email alerts upon detecting movement. Spykee returns to his charging station when his battery is running low. Spykee "is not only an erector set, in which you can build three different models, but also a high-tech electronic toy with practical use — fun for both kids and adults!" Marsha Cannonie of Nikko America told TDmonthly. Launch date: September 2007.Specialty Retailers, have this be your link
2/23/2007 (Price: $299.00; Age: 8 and Up)




Laser Dance Matrix by APPLIED SCIENCES

We've all seen the "Dance Dance Revolution" craze and the myriad plastic floor pad knockoffs. Now, Applied Sciences, a company with real scientists, is introducing a laser-triggered "pad" that works with no moving parts (except feet), and only floor to dance on. The player dances between laser beams to any type of DDR game: "Stepmania," "In the Groove" and "Dance Dance Revolution" itself. A. Smyth (a real scientist) said the reaction to the prototype — from retailers, schools, kids, college students and old fogies — has been overwhelming: "We totally underestimated the response." The first human to test the completed prototype, Smyth explained that the coolest thing about playing it was "the fact that the floor had become the controller. For most people, though, the coolest things are the lasers."Specialty Retailers, have this be your link
5/25/2007 (Age: 5 and Up)




MINO™ Fully Interactive Robotic Bear by KITTRICH CORPORATION

The large brown plush bear responds to a wireless wand that is used for interaction and decision-making. A child simply holds the wand, which detects speed and the positioning of the hand, to activate the bear. The teddy bear dances to music and laughs when his stomach is tickled. The product is based on platform technology to later support learning games and an interactive storybook through software. "Mino is the first robotic toy developed with this technology. [It's] a robotic bear that actually plays with you, and learns with you as time progresses," Rhoel Abraham, product manager for the specialty division at Kittrich, told TDmonthly. Launch date: September 2007.Specialty Retailers, have this be your link
2/23/2007 (Price: $300.00; Age: 5 to 10)




Wii by NINTENDO OF AMERICA INC.

Nintendo's Wii is distinct from other video game consoles because it has the wireless Wii Remote. This device detects motion, so that game-players can simulate the movement of their game rather than just press buttons. Players whose game character is swinging a sword, for example, make swinging motions to get their character to act. With a BM PowerPC-based CPU, a Wii Optical Disc, 512MB Internal flash memory, and online services such as Nintendo Wi-Fi Connection, WiiConnect24, Virtual Console and Wii Channels, Wii also delivers great performance. Launch Date: November 19, 2006.Specialty Retailers, have this be your link
12/28/2006 (Price: $250.00; Age: 6 and Up)




AIBO Entertainment Robot, ERS-7M3 by SONY ELECTRONICS

Sony's latest AIBO(r) Entertainment Robot, model ERS-7M3-- bundled with the new AIBO MIND 3 software helps the four-legged companion perform an array of new tricks. The software enhancement package enables AIBO to say more than 1,000 English words to communicate with its owner, in addition to recognizing many Spanish words and phrases for the first time. It now also has the ability for short term memory mapping and news reads through a version of web syndication called RSS (Really Simple Syndication) feeds.Specialty Retailers, have this be your link
1/5/2006 (Price: $2000.00)




Vexor – The ESP Game by AMAZING INNOVATIONS / AbsolutelyNew

The Vexor is the ultimate fifth dimension trick. Players match scrambled colored pegs to corresponding lights without knowing the order.Specialty Retailers, have this be your link
6/8/2007 (Price: $14.99; Age: 6 and Up)




Writer's Bio:
Julie L. Jones has written articles for both newspapers and magazines. Before joining the staff of TDmonthly Magazine, she worked as a communications writer and provided editorial support for a market research company.
Read more articles by this author
THIS BANNER IS AN AD::