TDmonthly's Top-10 Most-Wanted Toys With Interchangeable Parts

Kids Put it Together, Then Take It Apart


Specialty toy storeowners normally don't like to carry big-box items, but LEGOs and Playmobil were mentioned eight times when 31 retailers were asked about their best-selling interchangeable toys. Right alongside the big-box's big-boys were the Zoomorphs by River Dolphin

—

which

TD

monthly

first spotted last July (VIEW ARTICLE). You won't find those at Toys R Us! Here's what else specialty toy-store owners said was selling: (The order of toys does not necessarily reflect their popularity.)


Super Magz 52 by PROGRESSIVE TRADING



Description: Super Magz 52 contains larger bars, so it also has more powerful magnets — almost four times as powerful as the regular Magz. This Super set accommodates the coordination of younger children because the pieces are larger and children can handle them with greater ease.
— "I think the free-form play is what the kids really like about [Magz]; they can do what they want," Laura Miller, owner for five years of Imagination Village in Concord, N.H., told TDmonthly.
— "We sell a lot of Gyromagz," noted Char Mcaulay, manager of Toy Town in Casper, Wyo. Gyromagz is a Magz starter kit that comes in the shape of a spinning top.
—Magz and its companion building kets, Webz and Skrooz, are all award winners.

Specialty Retailers, have this be your link
7/14/2006 (Price: $19.95; Age: 4 and Up)




Makit Toy by SCHYLLING



Seventy wooden pieces to build great structures are included in this kit, which resembles a classic building toy.
— "Tinker Toys and those new Tinker Toys made of wood that bend by Schyilling" are the best-selling transformable toys at the 8-year-old Past Time Toys in Surf City, N.C., said Owner Dan Mewborn
— "Tinker Toys are the kind of thing that's nice to have because every once in a while someone wants a classic Tinker Toy," Elaine Hackney, owner of J P Boing's Toy Shop in Jamaica Plain, Mass., told TDmonthly.
— They're also a staple at Lark Toys in Kellogg, Minn., said Manager Mary Eversman.

Specialty Retailers, have this be your link
7/14/2006 (Price: $17.99; Age: 3 and Up)




Pirate Starter Kit by PLAYMOBIL INC.

The buried treasure is in the hands of those pirates. Can the Royal Soldier get it back? This Starter Kit features a playscape, fully accessorized figures and an assortment of props to create a first-time Playmobil adventure. Starter sets can also add on to existing Playmobil collections. A carrying case makes these sets easy to store and portable enough to take anywhere.


— "Playmobil [is a top seller]," said Katie Culotta, owner ofVictoria's Toy Station in Baton Rouge. "They like building it."

— Playmobil is popular with boys and girls because "their parents grew up with it," reported Amanda Toupes, manager ofMagic Box in New Orleans.

— Pirates are still a hot trend for boys, retailers and manufacturers report.Specialty Retailers, have this be your link
5/26/2006 (Price: $24.99; Age: 4 to 7)




Real Bridge Building by K'NEX BRANDS

The Real Bridge Building Set builds seven 5' long replicas of real world bridges, one per bridge type, two at a time. Models include replicas of the Firth of Forth Cantilever Bridge (Scotland), Tower Bascale Bridge (London), Golden Gate Suspension Bridge (San Francisco), Chesapeake Bay Beam Bridge (Virginia Beach), Columbia River - Astoria Truss Bridge (Oregon), Sydney Harbor Arch Bridge (Australia) and the Dames Point Cable-Stayed Bridge (Jacksonville, Fla.). Curriculum offers key features of each bridge type, statistics on each, and building challenges for each bridge type, written to middle school National Standards in Science and Technology. It supports six to eight students.
— K'NEX is the best-selling transformable toy line at Learning Express in North Hampton, N.H., reported manager Linda Doucette.
— "K'NEX is one of our first toys we started out with, and they've done very well for us," said Kim Drilling, a three-year employee of the 4-year-old Fat Brain Toys in Elkhorn, Neb.
— Real Bridge Building was the hands-down favorite of both the Moms and kids in TDmonthly's Homeschooling Roundtable for being educational and fun. "They've played and played and played with it," between May and July 2006 , said mom Susan Ledford. "I've built about four of the bridges and I've built different things, too," 11-year-old Sara Seagle told TDmonthly.
(VIEW ARTICLE)
Specialty Retailers, have this be your link
4/28/2006 (Price: $165.00; Age: 10 and Up)




ZOOBDude™ Rock Climber by INFINITOY



The ZOOBDude Rock Climber doesn't just look cool … he really climbs. Just position his grappling hook, pull the cord, push the button and watch the ZOOBDude scale the wall. ZOOBDudes are pre-assembled adventure heroes that kids can snap apart (and rebuild, and snap apart, and rebuild), each with its own working accessory. Each ZOOBDude includes 19 ZOOB pieces (including two faceplates), diagrams showing how to connect ZOOB pieces, and instructions for rebuilding a ZOOBDude and building three additional creations. All ZOOBDude pieces work with every other Infinitoy ZOOB set.
— ZOOBDude's are the best-selling interchangeable toy at Tinkerz Toy Shop in Alene, Idaho, said sales associate Crystal Mobbs.
— Three of 39 retailers cited ZOOBDudes among construction toy best sellers in spring 2007.
— "Zoob has only five pieces, which snap together 20 different ways," explained Jeff Pinsker, CEO of Infinitoy. "It's an unsual product because you can build many different things. If you want to build a car, an elephant or anything, you don't need special pieces ... and after you put the Zoob pieces together, they move." The ZOOBDudes are transformable, too: "They come preassembled, but every single piece still moves. ... You can build a couple of different models and use the [Rock Climber] grappling hook as a winch to pull them up."


Specialty Retailers, have this be your link
7/14/2006 (Price: $9.99; Age: 6 and Up)




Classic House Building Set by LEGO

Little architects will find creative inspiration in a jar! The new clear storage format contains a versatile mix of roof tiles, doors, windows and bricks which are complemented by the reintroduction of LEGO trees and flowers to create houses — from small cottages to big mansions. The jar with lid makes clean up fun and easy and helps keep all of the 233 pieces in one place.
— "Any LEGO product, I can't keep them on the shelf," said Warren Brown, owner of French's Toy Shop in Concord, N.H. "It has a wide age-range and has universal appeal," pointed out Joseph Baiocco, manager of Big Top of Scarsdale, in N.Y.
— LEGO products can be "low cost items that can easily add to other LEGO creations or be used alone," Angel Stahl, owner of Angel's Toy Barn in Greensburg, Pa., told TDmonthly.
— TDmonthly recently spoke with with Michael McNally, the Director of LEGO Brand Relations, who said, "The entire LEGO Creator Classic Building Line got a new twist this year with several sets designed to offer unique collections of LEGO bricks and elements to help young builders create the cars, homes, and buildings they see throughout their every day."Specialty Retailers, have this be your link
6/7/2006 (Price: $14.99; Age: 4 and Up)




Mighty World Light & Sound Fire Truck by INTERNATIONAL PLAYTHINGS LLC

The transformable truck has an easy snap-fit assembly with light and sound, dual rear wheels, removable axles, bumpers and more. It is sturdy for basic play and also model-quality for older children with its adjustable assembly feature. It also features a detailed chassis and working steering. The compartment doors, two cab doors and hood open for added play value. This set includes a firefighter figure, rescue basket, hoses, fire extinguishers, ax and flashlight. "Mighty Worlds is brand new … and it's been selling extremely well already," raved Ricki Block, owner of Ariel's Child in New Windsor, N.Y.
— "Mighty World … is also liked by adults. They're pretty humorous and modern," said Wendy Kramer, manager of Big Fun Toys in Hoboken, N.J. "The cop has a gun and donut."
— It's still doing well for Block, she told TDmonthly in July.
— Susan Tice, publicity director for International Playthings, said that Mighty World had a small test run in 2005, "but the major launch [was] Jan. 2006."Specialty Retailers, have this be your link
12/7/2005 (Price: $37.99; Age: 3 and Up)




Beachmorphs by RIVER DOLPHIN TOYS

Kids start with a crab, a seal, an eider duck and a mackerel, but what they end up with is up to them. The kit includes 40 easy snap-together pieces in robust colors that let kids mix and match life on the beach. Beachmorphs can also be combined with other Zoomorph sets. Launch date: June 2006.
— "The Morphs for sure," enthused Ricki Block, owner for 20 years of Ariel's Child in New Windsor, N.Y. Block recently had the Zoomorphs creators out to her store (VIEW ARTICLE). "They are colorful, made very well, and you can get new sets to add on to what you already have."
— "They're creative and open ended," pointed out Debbie Scholl, owner for 11 years of Fundamentally Toys in Houston. "They can go for both girls and boys." Jan Grimsley, owner for 2.5 years of the 14-year-old Market Square in Little Rock, Ark., said, "They make up their own animals … a bird head, tiger body, dinosaur tail."
— These morph sets are a best seller at Juggles in Wakefield, R.I., according to Owner Idanna Smith. Specialty Retailers, have this be your link
7/11/2006 (Price: $15.99; Age: 4 and Up)




Transformers Energon: Omega Supreme Figure by HASBRO INC.

The Omega Supreme transforms from a robot to a cruiser to a construction vehicle which, when combined together, form an armored Supertrain.
— "Anything Transformer from Hasbro" is what sells for Ed Evans, co-owner of All Things Fun! In North West Berlin, N.J .
— Some specialty toy storeowners carry a few big-box items, like Transformers, just in case anyone asks for them, they've told TDmonthly.
— Transformers were the number one and number three best-selling action figures on amazon.com on July 13, 2006.Specialty Retailers, have this be your link
4/29/2005 (Price: $49.99; Age: 5 and Up)




Writer's Bio:
ALISON MAREK is an award-winning writer, director and cartoonist whose work has been published by Fairchild Publications and DC Comics (Piranha Press), broadcast on Showtime and other cable networks, and viewed worldwide in film festivals. See her short films and print work on www.alisonmarek.com. Watch her nefarious villains in the web series www.MuggsMovers.com. Get inspired by her cartoons "Daily ARFFirmations to Unleash Your Inner Fido" at www.ARFFirmations.com. Phew! And then ...
Read more articles by this author
THIS BANNER IS AN AD::
Recent Products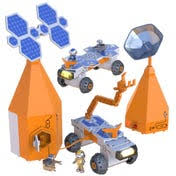 Educational Insights Circuit Explorer Rover Beginning Circuits
By EDUCATIONAL INSIGHTS INC.
» More Information