Webkinz Are Exploding, Retailers Report

Cuddly Toys With Online Counterparts Win Girls and Boys




"Webkinz are explosive! Our plush sales are 92 percent above plan because of them." — Lee Ann Stern, Village Toy Shop

Computers aren't cuddly and plush isn't smart, but Ganz's new Webkinz might be both. First reported as a "hit" by Bobbi Dickinson, owner of Next Generation of Stoughton, Wis., in the December 2005 issue of

TD

monthly Magazine

(read article), the plush animals with online counterparts are on fire all over the country, specialty retailers told

TD

monthly

.

"I've got to tell you what's hot across the board: Webkinz," volunteered Trish Garlock, owner of Treasured Child in La Grange, Ky.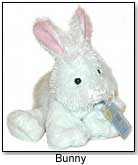 "Webkinz are explosive!" gushed Lee Ann Stern, general manager of Village Toy Shop
in North Easton, Mass. "Our plush sales are 92 percent above plan because of them. It is absolutely incredible!"
"Our Easter was good. They were buying a lot of the Webkinz," stated Mary Dondero, owner of Cheshire Cat Fine Toys in Fort Myers, Fla.
Easter was so good for Ganz that the company's owner called creative director Karl Borst that morning to find out why the number of online pet registrations had jumped by 24,000 in a single day. Since each pet can be registered online with a secret code, registrations are a nearly instant reflection of sales.
"He asked me to check the records to make sure nothing had gone wrong because we couldn't imagine we'd get that kind of growth," Borst told TDmonthly.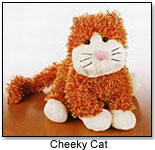 It had taken from the launch date of April 15, 2005 until September for Webkinz to reach 20,000 registrations. Now they average 10,000 a week, according to Ganz spokesperson, Susan McVeigh.
Donald Borho, co-owner of Wondrous Things in Hudson, N.Y., said that even though Webkinz is very new, "we're getting requests for it!" He added that it reminds him of the excitement over Groovy Girls when his store first began offering the line four to five years ago.
Ricki Block of Ariel's Child in New Windsor, N.Y., said that the Webkinz hadn't hit yet in her area, but she's planning to showcase the DVD demo at her 20-year anniversary bash this month. "It's also selling people on the idea," she said. She'd received her first order last week and had already sold a couple.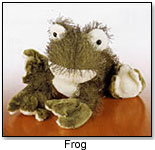 Dondero noted that the collectible was crossing gender lines in kids ages 6 to 12. Borst estimated that 55 percent of customers are girls, with at least one Grandma — a Florida woman who has 158 pets (the average is 1.6 and growing). She recently gave away her duplicate plush toys to a women's shelter, but kept their online counterparts.
One anonymous source checked the ASTRA site for Webkinz buzz and found retailers split into two distinct groups: those who loved the toys and those who wouldn't order them because they "didn't like" their Ganz rep. They might want to reconsider: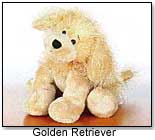 "It took a little while for them to take off, but when they came out with the Lil'Kinz, I got six Chihuahuas, and they were gone at the end of the day," said Garlock. "I'm not in a strip mall. I'm in a historic downtown area. There's not a lot of walk-by traffic with children. … I'm really impressed."
Borst said that Ganz couldn't keep the Chihuahua in stock either, and the last time he checked it was selling for double price on e-Bay.
Five new characters will be coming out this month: an alley cat, Pegasus, gorilla, pug dog and white terrier. New Lil'Kinz will include a lion, orange-and-white cat, St. Bernard and elephant.
To find out how kids themselves feel about Webkinz, please read this issue's Homeschooling Roundtable.
(EDITOR'S NOTE: For an update on Webkinz and to find out what 10Vox's Kookeys have in store for them, read Webkinz Attacked by T Rex in the October 2007 TDmonthly. To read about this year's Webkinz shortage, please see Webkinz: Boom, Bust or Both in the May 2007 TDmonthly.)

Here are some specifics on the product:
Webkinz by GANZ

Elephant Webkinz is a velvety soft pet about 8" long. Check his hantag for a secret code that brings him to life on the Web. Using the Webkinz site, kids can adopt their pet and create a virtual world for him, too. By earning Kinzcash through playing arcade games and answering trivia quizzes, kids can design rooms, buy furniture and clothes and take their virtual pet to Dr. Quack for a check-up. Each pet has its own unique characteristics, so even if kids only collect the Webkinz Lions, for instance, each online counterpart will have different likes and dislikes from the other. There are 25 Webkinz and new ones are being created constantly, said Ganz spokesperson Susan McVeigh. Lil'Kinz ($7.50), smaller sisters and brothers to Webkinz, are also available.Specialty Retailers, have this be your link
11/28/2005 (Price: $10.00; Age: 5 and Up)




Writer's Bio:
ALISON MAREK is an award-winning writer, director and cartoonist whose work has been published by Fairchild Publications and DC Comics (Piranha Press), broadcast on Showtime and other cable networks, and viewed worldwide in film festivals. See her short films and print work on www.alisonmarek.com. Watch her nefarious villains in the web series www.MuggsMovers.com. Get inspired by her cartoons "Daily ARFFirmations to Unleash Your Inner Fido" at www.ARFFirmations.com. Phew! And then ...
Read more articles by this author