Construction Toys Zoom

RC and New Designs Strengthen Building Toys for Holiday Sales


To view fresh construction toys for the holidays, click here.



"We've got [a RollerCoaster Tycoon] set up in the front window and it stops people as they go by." — Ed Evans, All Things Fun

Two surprise great sellers that have been causing a buzz over the past year are both construction toys, retailers have told TDmonthly Magazine: RollerCoaster Tycoon by Miniature Amusements (ToyShow) and the low-tech, high-fun Zoomorphs by River Dolphin Toys. Also high on their list are old-reliables with new twists, such as the Erector Radio Control Hummer set, which builds three different radio-controlled vehicles. And the best way to sell these toys, all agreed, was to put them on display and let kids play.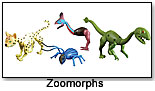 "We've got [a RollerCoaster Tycoon] set up in the front window and it stops people as they go by," said Ed Evans, co-owner of All Things Fun in West Berlin, N.J. "I think it's going to be a big product for us this season." They've only had the toy for a week and already it's sold "lots."
The RollerCoaster Tycoon is a motorized construction toy based on the popular Atari video game. Kids can design hundreds of different roller coasters using the basic set, or add other sets for more advanced designs.
Another retailer had told TDmonthly that the toy was flying off the shelves way back in September, but when asked specifically about the toy, only two in 13 retailers had heard of or carried it. Over on the West Coast, Jay Demercift, owner of the specialty store Puzzle Zoo, said that he thinks RollerCoaster Tycoon "will do well for Christmas" because at $160, it's a big-ticket item, "and that's the best time for them."
Stan Rust, manager of Phillip's Toy Mart in Nashville, Tenn., had said it sold pretty well since they had gotten it and they were hoping it would be a big Christmas item. "They enjoy looking at it … but it takes up a lot of space," he noted.
Enthusiasm continues for Zoomorphs, a building toy that enables kids to construct all kinds of creatures both real and imaginary. "The Pets, the Fliers, the Dinos — all of them are going to be popular," predicted Ricki Block of Ariel's Child in New Windsor, N.Y. Six other retailers agreed; no one else had heard of the toy.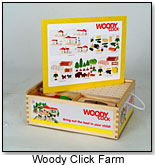 What they'd heard of, of course, were Erector, K'NEX and LEGO — all of which are expected to continue to be great for Christmas. Retailers were especially enthused about the Erector Hummer RC set.
"It's cool!" said Dorothy Bazini of Funco Land in Lake Grove, N.Y. Grafton Stine, owner of Toys on the Square in Hummelstown, Pa., agreed.
Another new toy that had excited at least one retailer was Woody Clicks by HaPe. "I absolutely love them," sighed Terri Bracken, owner of Earth Explorers Toys in Zionsville, Ind. "They're brand new … but I think people are getting very excited about them. The pieces fit together very snugly without falling off, which is what I hate about LEGO."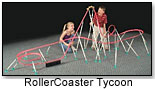 The Village Toy Shoppe in New Britain, Pa., was seeing "a resurgence of Lincoln Logs," said sales associate Sally Seeton. Both Lincoln Logs and the classic Tinker Toys were doing well at Randall S. W. Toyes and Giftes in Pittsburgh, commented manager Jack Lewis.

Wedgits by Imagibility (ToyDirectory), PixelBlocks by PixelBlocks, Magneatos by Guidecraft, Zimbbos by Blue Orange, Erector set yellow boxes by BRIO Corp. (ToyDirectory), Zoobs by InfiniToys, Superstructs by WabaFun (ToyShow), blocks by PlanToys, Gears! Gears! Gears! Gizmos by Learning Resources and Anchor Blocks by Wonder Works (ToyShow) were also mentioned as good sellers by more than one retailer. Though Magz by Progressive Trading (ToyShow) is usually cited as a hot seller, they'd slowed down at Block's specialty store. Why? "They're everywhere," she said of the popular toy.

Here are the building toys that retailers said were revving up excitement for Christmas in their stores:




Tinkertoy by HASBRO INC.

This classic set comes with 66 wooden and plastic Tinkertoy pieces to build big structures quickly. Kids can easily build lots of structures that swing, roll and spin. Every Tinkertoy Classic building set comes in a sturdy canister package with a metal lid and bottom. All pieces, except green flags, are made of 100 percent real wood. The starter kit contains four plastic flags, four pulleys, four end caps and eight connectors.
— "Tinkertoys" was among the best-selling classic toys in the store, according to Sylvia Pudtice, co-owner of Giggles for Kids in Suwannee, Ga.
— When asked about classic toys, Roberta Kenworthy, owner of AbraKIDabra Toys in Greenville, N.C., listed "Tinkertoys" as among the best-selling in her store.
— Tinkertoy was cited by Toys "R" Us on its 2006 guide for kids with special needs. Specifically, Tinkertoy was described as a toy that "challenges kids to think."
— "People love Tinkertoys, as well as Lincoln Logs. We carry both of them because they're so popular," Gail Small, owner of Dragon's Toy Box in Seattle, told TDmonthly.Specialty Retailers, have this be your link
11/22/2005 (Price: $19.99; Age: 3 and Up)




Gears! Gears! Gears! Gizmos by LEARNING RESOURCES INC.

This 10-time award winner sets imaginations in motion with wacky gears that whirl and twirl. The 82-piece set includes springs, spirals and propeller, plus small, medium and large gears and bases. The set can be used alone or combined with other sets. Included are: 4 peg adapters, 11 small gears, 5 medium gears, 4 large gears, 7 small bases, 4 medium bases, 3 large bases, 6 six-way axles, 8 pillar connectors, 9 large pillars, 12 small pillars, 1 crown gear, 2 T-connectors, 2 angle connectors, 2 spring connectors, 1 propeller and 1 crank.Specialty Retailers, have this be your link
11/22/2005 (Price: $28.95; Age: 7 to 13)




Meccano Design 1 Motorcycle Set by BRIO CORPORATION

New flexible parts let kids build cycles that look more realistic than ever. This 189-piece set can build three different cool cycles, including a chopper. Other sets available include an RC truck and a 14-model set that builds everything from a sportscar to a helicopter.Specialty Retailers, have this be your link
11/22/2005 (Age: 8 and Up)




Woody Click Fire Ladder Truck by HAPE

Woody Click offers a whole new world of adventure with build-your-own buildings and vehicles and delightful, poseable characters. With a simple "click," children add adventure to a variety of figures, houses, vehicles and accessories around community places like the fire or police station, hospital or rescue center, construction site, or family farm or city residences. With a few more clicks and a child's imagination these pieces of wood can become any building or vehicle or world the child chooses. Wood is the primary material for Woody Click, and its individual characteristics combined with fine craftsmanship make every piece of Woody Click unique. Water-based stains are used to maintain a natural and harmonious look and feel. The Fire Ladder Truck won a 2005 Parents' Choice Recommended Award and an Oppenheim Toy Portfolio Platinum Seal Award 2006.Specialty Retailers, have this be your link
11/22/2005 (Age: 3 and Up)




Duplo Dora and Diego's Animal Adventure by LEGO

Dora and Diego are ready for an exciting animal adventure. Kids can help them rescue Baby Jaguar and watch out for Swiper the Fox. Along the way, they'll learn songs, numbers and simple Spanish with Dora. They just press the buttons to hear words and sounds. This 41-piece set includes Dora the Explorer, Diego, sound box and much more. Three AAA batteries are also included.Specialty Retailers, have this be your link
11/22/2005 (Price: $29.99; Age: 2 and Up)




Plan Toys Parking Garage by BRIO CORPORATION

The Parking Garage is equipped with three floors of parking space, an elevator tower and a helipad. The set includes a car, a gas station and a car washing machine. The design is scaled to accommodate other metal, die-cast or plastic vehicles. It measures 16.5" by 14.1".Specialty Retailers, have this be your link
11/22/2005 (Age: 3 and Up)




Plan Toys Water Blocks by BRIO CORPORATION

The colored water inside these blocks helps children learn how water can change its shape with the movement of the blocks. Looking through these blocks, children obtain another perspective of their environment. Each block has been tested for safety.Specialty Retailers, have this be your link
11/22/2005 (Age: 3 and Up)




Thomas & Friends Load and Carry Train Set by LEGO

Thomas can be loaded up at the cargo tower, then sent on his way to Tidmouth Station. The set includes a cargo tower with a slide so kids can open it to drop cargo. It also features a full track that measures 23" by 35", train signal and station. It recently won a 2006 Oppenheim Toy Award, comes with more than seven feet of track and 16 curved track pieces and is compatible with the complete LEGO and DUPLO systems.Specialty Retailers, have this be your link
9/7/2005 (Price: $29.99; Age: 2 to 5)




Magneatos by GUIDECRAFT INC.



Magneatos is a jumbo-sized magnetic construction set similar in concept to popular sets made for older kids, but designed for small hands with huge imaginations. The distinctive extra-large size and bright colors of Magneatos make them ideal for little builders. Available in 36-, 72- and 144-piece sets, Magneatos construction sets can be combined with one another. The suggested retail prices for the sets are $30, $50 and $100, respectively. Baby builders can reach for the sky with this popular toy. Its steady sales have earned it a TDmonthly Top Seller 2007 award.
— TDmonthly posted a video of Guidecraft Inc.'s Magneatos in November 2007, in which a demonstrator commented on the "not so sturdy" nature of the product, potentially portraying the design or strength of the magnets as a weakness. TDmonthly did mention positive traits of the toy, but upon further review and observance of children playing the set, discovered even more: Magneatos encourage children to work together, communicate (as they find certain colors of pieces, for example), and compete, since the larger sets, especially, contain enough pieces for children to work on their own projects. Also, the power of the magnets forces children to put more thought into the foundation of their structures, reinforcing principles of balance. Per these findings, the video was removed.

Where to Buy: Rocking Horse Toy Store; Really Great Toys; Berkira

Specialty Retailers, have this be your link
9/7/2005 (Price: $30.00; Age: 3 and Up)




WEDGiTS to Go Set by IMAGABILITY

This design toy offers creative construction challenges for today´s kids on the go. Children can stack, nest, link and even lock WEDGiTS together to create creatures, structures, mechanical levers, statues and even galactic spacecraft. Packaged in its own portable, plastic carry-case, this 35-piece educational, manipulative product allows kids to create designs, structures, creatures and art forms.Specialty Retailers, have this be your link
8/24/2005 (Price: $44.99; Age: 3 and Up)




Nightmorphs by RIVER DOLPHIN TOYS

Sixty rugged plastic pieces snap together easily to form endless combinations of poseable creatures. In this set, kids can make a cat, fruit bat, lantern fish, desert lizard, snake and firefly or morph them to make all sorts of fantasy creatures. The heads have hinged jaws, and select pieces, such as the cat's eyes, glow in the dark. All Morphs sets are interchangeable. The Morphs are also available in jungle, sea, pet, runners, fliers and dinos sets.
— "This is a great one," said Doris Jelliff, bookkeeper for Dinosaur Hill in New York City. "It was a big hit when they first came out and now they've come out with new glow-in-the-dark ones."
— "This is one of the hot sellers," said Ricki Block of Ariel's Child in New Windsor, N.Y. "All of the sets are going to be popular."
— "We started with 60 stores in 2004, but the word got around so now we're in 700," said River Dolphin partner Mark McFarland. "The demand has been high; we've gotten slammed with orders. We got in 25,000 units today and they are almost entirely sold." READ MOM REVIEWSpecialty Retailers, have this be your link
10/27/2005




Rainbow Color PixelBlocks by PIXEL BLOCKS

Modeled on the pure light and color emitted by computer screens, PixelBlocks are 3/8" translucent colored cubes that feature a peg-and-hole interlocking device on the top and bottom as well as a tooth-and-groove device on all four sides. Starter boxes include 200 single-shape pieces.
— Pixel Blocks are available in PhotoGrays and Artist sets, for a wider variety of colors. Individual colors can also be bought separately.
— Jordan Walden, store manager of Finnegan's Toys & Gifts in Portland, Ore., says that PixelBlocks is his newest construction set that's doing well.
— This toy is appropriate for both kids and professional artists, according to the manufacturer. Specialty Retailers, have this be your link
6/15/2005 (Price: $7.99; Age: 6 and Up)




Block N Roll on the Go by TAURUS TOY

Kids will have fun with this 32-piece on-the-go kit. Parents can get the bright colors to help teach their kids about colors or maybe get their older kids a futuristic kit to build a maze for their desks. With either kit, kids cannot go wrong: Add it to an existing Block N Roll kit or purchase one to keep the kids occupied at camp, or traveling in the car.Specialty Retailers, have this be your link
7/12/2005 (Price: $19.00)




Zimbbos! Elephantastic Pyramids by BLUE ORANGE GAMES

Putting a new twist on building blocks, the object of Zimbbos is to see who can stack the most elephants onto the pyramid without bringing the whole thing crashing down. Kids take turns rolling the dice to see how many elephants they have to add, and the person who tops off the pyramid is the winner. Let the pyramid tumble and you´re the loser. The game comes with 10 wooden elephants, five wooden jokers, a lion, a bear, two clowns and three balancing bars.Specialty Retailers, have this be your link
9/7/2005 (Price: $19.95; Age: 3 to 5) ENTER BLUE ORANGE GAMES TOYSHOW




ZOOB by INFINITOY

Ball-and-joint construction pieces endow Zoob creations with mobility. Kids can make anything from spheres to dinosaurs with this 250-piece kit, which comes with six instruction booklets.
— Zoob continues to be a strong seller at Big Fun Toys in Hoboken, N.J., says manager Wendy Kramer. Tara Trew, sales associate at Growing Tree Toys and Books in State College, Pa., agrees.
— Zoob has been rated a top seller by accounts such as Neiman Marcus and Learning Express, it was the No. 1 selling product in two well-known direct-to-consumer catalogs, and it now sells in 45 countries around the world, according to Jeff Pinsker of Infinitoy.
— Jordan Walden, manager of Finnegan's Toys in Portland, Ore., claims that Zoob was unavailable for about 3 years. During that hiatus, customers requested it frequently. Now it's selling well again.
— "In our store, probably Zoobs" will be found under most trees for the 2006 holidays, Tristan Hewitt, manager of Dragon's Toy Box in Seattle, Wash., told TDmonthly.Specialty Retailers, have this be your link
6/15/2005 (Price: $49.99; Age: 6 to 10)




Superstructs BIG Builder by WABA FUN LLC

The 126-piece Superstructs BIG Builder set gives you everything you need to build detailed, hard-working construction vehicles. Build a working forklift, dump truck, crane or utility truck with the enclosed step-by-step plans. And once you have mastered these, you can take them apart and use your imagination to build other great creations.Specialty Retailers, have this be your link
6/1/2005 (Price: $35.95; Age: 4 and Up) ENTER WABA FUN LLC TOYSHOW




Lincoln Logs Conestoga Homestead by K'NEX BRANDS

The Conestoga Homestead comes with a plastic frontier couple, wagon, two horses, roof, windows and door. It includes enough wooden logs to build a small house.Specialty Retailers, have this be your link
6/3/2005 (Price: $19.99)




Wild Hunters by LEGO

Following the instructions is optional with this 630-piece set. Kids can either use the directions and build one of 26 animals, or they can use their imaginations to build something entirely different. Specialty Retailers, have this be your link
9/23/2005 (Price: $29.99; Age: 6 to 12)




Pirate Ship Park by K'NEX BRANDS

This K'NEX® product comes with all the parts necessary to build a real, working pirate ship ride. The pendulum-like ride will stand more than two-feet tall and is comprised of rods and connectors and runs on a battery-powered motor. Once erected, the ship will swing back and forth before eventually flying around for a 360-degree spin.Specialty Retailers, have this be your link
9/23/2005 (Price: $49.99; Age: 9 to 12)




Skrooz by PROGRESSIVE TRADING

The possibilities are limitless with the traditional MAGZ bar, so just imagine the boundless capabilities of an adjustable MAGZ bar! SKROOZ is a revolution in magnetic construction toys and in the MAGZ family itself. The bars come in two different sizes: 1" and 1 1/4" that can be adjusted to 1 1/2" and 2", respectively, by a simple twist of the bar. Perfect for beginners or advanced sculptors, the adjustment ability of the bar makes it easy to create intricate bends, curves, accents or just broad angles and structures. SKROOZ comes in three primary color sizes (42, 84, and 168 pieces) and in a metallic set with 84 pieces.Specialty Retailers, have this be your link
9/1/2004




RollerCoaster Tycoon Roller Coaster Construction Set by MINIATURE AMUSEMENTS

Kids from 9 to 99 can build their own roller coaster with the "RollerCoaster Tycoon" Roller Coaster Construction Set (RCCS). The RCCS was named Best of Show at the Western Toy and Hobby Show. The RCCS is challenging and fosters creativity because there are limitless possibilities in design variations and improvements. As the RCCS is easy to assemble, alter and disassemble, friends can combine individual models to make one gigantic floor-to-ceiling coaster. Physically accurate to look and perform just like a real steel roller coaster, the RCCS is bound to give hours of imaginative fun. A full line of accessories is available, sold separately.Specialty Retailers, have this be your link
9/1/2004 (Price: $159.95)




Writer's Bio:
ALISON MAREK is an award-winning writer, director and cartoonist whose work has been published by Fairchild Publications and DC Comics (Piranha Press), broadcast on Showtime and other cable networks, and viewed worldwide in film festivals. See her short films and print work on www.alisonmarek.com. Watch her nefarious villains in the web series www.MuggsMovers.com. Get inspired by her cartoons "Daily ARFFirmations to Unleash Your Inner Fido" at www.ARFFirmations.com. Phew! And then ...
Read more articles by this author
THIS BANNER IS AN AD::
Recent Products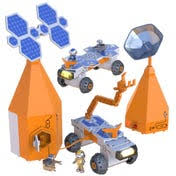 Educational Insights Circuit Explorer Rover Beginning Circuits
By EDUCATIONAL INSIGHTS INC.
» More Information