The Road to Damascus: A Whole New Fashion Doll for the Middle East

Fulla Doll Brings Muslim Ideals to Play Time




Now [Fullas are] starting to hit America. Muslim families with relatives back in the Middle East have been receiving them as gifts since the doll rolled out in 2003.

As if competition from BRATZ isn't enough, Barbie's international stranglehold is now tottering: Fulla has taken the Middle East like a wind of change. Will she be coming to America next?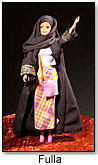 "This isn't just about putting a hijab on a Barbie Doll," explained Fawaz Abidin, vice president in charge of the Fulla line for the doll's manufacturer, Syrian company NewBoy Design Studio, told the New York Times. There has been a Moroccan Barbie, and veiled dolls like Sara in Iran, and Razanne in Britain, but Fulla is a phenomenon based on a character that "Muslim parents and children will want to relate to. She has Muslim values."
Although they are expensive for Syrians (a Fulla doll sells for about $16 in a country whose average per capita is around $100 per month) they are flying off the shelves. Couple it with an intense licensing campaign – Fulla backpacks, Fulla bikes, Fulla stationery – and Fulla is the Hello Kitty of Damascas and beyond.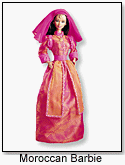 Young girls from Beirut to Bahrain are obsessed with Fulla, and conservative parents who would not dream of buying Barbies for their daughters seem happy to pay for a modest doll who has her own tiny prayer rug, in pink felt. Children who want to dress like their dolls can buy a matching, girl-size prayer rug and cotton scarf set, all in pink.
And now they're starting to hit America. Muslim families with relatives back in the Middle East have been receiving them as gifts since the doll rolled out in 2003, and seeing the opportunity, NewBoy is making overtures to select outlets in America. "We are being very careful," comments a source in the State Department who wishes to remain anonymous. Syria is on the State Department Terrorist list of state sponsors of terrorism, and so "anything Muslim is viewed with uncertainty, even a doll."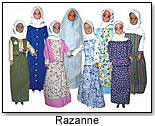 As if U.S. views aren't enough trouble, within the Middle East itself, NewBoy is having a difficult time with counterfeiting from its neighbor, Jordan. According to Yacoub Al Kilani, manager of the Jordanian branch of NewBoy, around 90% to 100% of NewBoy products have been copied and distributed in Jordan.
And there's the rebound from the Muslim religious right. A complete doll is haram (Arabic for "forbidden") under strict Islamic law. Unless a part of the body is missing on the doll, the doll is not halal (permitted). It would be considered idol worship.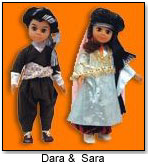 Yet Fulla still sells. Maan Abdul Salam, a Syrian women's rights activist, believes little girls can relate better to a doll that represents their own cultural norms than one that reflects foreign values.
Does this mean that more countries and cultures from around the world will follow this course? Is this an area of opportunity for American manufacturers and retailers? TDmonthly Magazine will follow the trend as it emerges.

Click here to read about other Fashion Dolls.
Read an update on the Fashion Dolls Wars in Playzak.