Toy Candy Fills Sweet Spot in Stores
Article Synopsis

All but 2 percent of U.S. households buy candy every year.
Candy makers have been creating bigger, more expensive candy in toy form to stay on shelves.
Novelty candy has to keep changing form and gimmick to attract new buyers.
Novelty candy has growth potential.
Sidebar: Healthy Candy – Is This Oxymoron a Smart Idea?
The novelty candy category is rarely absent from any retail venue since it can boast impressive penetration statistics. Ninety-eight percent of households in the United States purchase candy every year.

"Confectionary has enormous potential for increasing store profits and identifying a retailer as a solution center for consumer needs," according to Larry Graham, president of the National Confectionary Association (NCA).

At The Toy Store in Atlanta, Ga., Kevin Hart keeps the candy displays by the front counter. "We have made a decision not to go too far in the candy category to take some pressure off of the parents," he says. "When we do, we definitely use the toy candy combinations that are mostly a candy item in a toy."

A long time employee at a West Coast toy store in San Luis Obispo, Calif., says she has not seen the size of the candy area changing, but has seen a move to more novelty candy from straight candy. "Parents easily say 'no' when a child asks for candy, but when they are asking for a candy product that does something, they are more willing to consider it."

More Expensive Products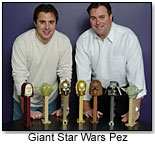 Although 99 percent of consumers might be inclined to buy candy, Marty Faierstain, president of Sportsline Distributors, Inc. (pictured to the right standing to the left of Vice President Bill Gausselin) (ToyShow) says margin is the issue for retailers. "They have to sell a list of candy bars like Snickers and M&Ms, the big ones that are favorites and customers expect, but retailers are giving up sweet shelf space for more profitable items," he says.

For this reason, Sportsline Distributors, Inc. has entered the candy category with licensed products like the Star Wars Giant Musical PEZ Dispenser that sells for between $20 and $25 and gives a retailer a better margin than traditional candy.

Novelty Means "Novel"

Faierstain believes manufacturers have to give retailers and consumers something new every year. NCA reports that in 2004, more than 1,400 confectionary products were introduced in the United States alone.

Sportsline's licensing expertise gives it an edge over other brands, according to Faierstain. "Our strength is that we can react quickly and bring a new product to the stores sometimes in a matter of weeks," he says.

This year, his company will introduce a retro line of candy, including Gold Nuggets Gum and rock candy.

Jeri Dorsey, manager of Kits & Kaboodles in Indianapolis, sees the toy candy section in the store maintaining its space, not shrinking or growing.

"We do try to keep it new every year," she says. "As a parent I know I am drawn to the unique candy stores and areas in stores that display something new."

Gary Evans of Captain Muddy's admits that novelty candy is a driver of growth in the candy segment for retailers. "There is very little change in the top 25 candy bars from year to year, but toy candy is always evolving. There are a lot of players, but novelty and interactive candy has to stay novel. There are always multiple places for novelty candy as longs as it stays novel."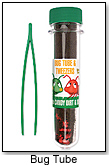 Captain Muddy's has two new products for 2005 filled with dirt, worms and ants, a combination of chocolate cookie meal, gummy worms and red ants, which retails in a Bug Tube with tweezers for $1.99 and in a Bug Box with magnifying glass for $3.99. Evans says these products can fit into a toy aisle, a summer/spring seasonal aisle, a toy aisle or any end cap display.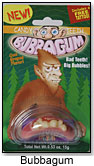 Something new to try might include candy false teeth held in your mouth with bubble gum. That is the new product from Bubbagum. Bubbagum's Rick Leier reports an easy entry into the category. "We are brand new here in October of 2004 and are having an excellent response from retailers, exceeding our wildest expectations," he says.

Susan Fussell, director of public relations of NCA, agrees about the potential for growth. "As a consumable item, candy and candy novelty has a great potential for growing. It's not like toilet paper where there is a certain amount each house will buy every year. If you have a well-merchandised and innovative display, it will draw attention and there is no particular limit to how much it can grow."

Writer's Bio:
Pennie, a graduate of Indiana University School of Journalism, is a freelance writer and lives with her husband and three children in Visalia, Calif.
Read more articles by this author
THIS BANNER IS AN AD::